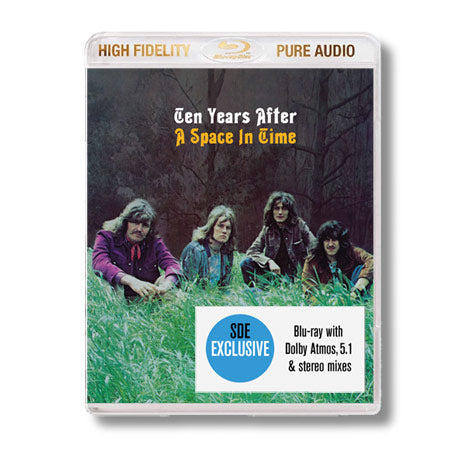 Ten Years After / A Space in Time limited edition SDE-exclusive blu-ray audio
£23.00
 *If you are ordering from the EU please be aware that that goods may be subject to import VAT when they arrive from the UK*
Ten Years After / A Space in Time limited edition blu-ray audio
Exclusive to SDE • Dolby Atmos Mix •  5.1 mix • 2023 Stereo Mix • 1973 Quad Mix • Original Mix • #7 in the SDE Surround Series • Limited to 1000 unit worldwide
*Ships with a free, collectible SDE Surround Series slipcase*
British rock band Ten Years After's 1971 album A Space in Time is reissued for a delayed 50th anniversary celebration. 
The band's sixth, and best-selling album, features their most well-known track 'I'd Love To Change The World', which regularly features in movies and TV shows. The song saw the band taking a more melodic direction from previous releases and showcased the band at their peak.
The Blu-ray Audio is only available via the SDE shop and is packed with great content, as follows:
New Dolby Atmos Mix
5.1 Mix (DTS HD-Master Audio 5.1)
1973 Quad Mix (DTS HD-Master Audio 4.0)
2023 Chris Kimsey Stereo Mix (48/24)

Flat transfer of the Original 1971 Mix

(48/24)
The Quad Mix corrects the channels which were inadvertently switched (front to back) on the 2012 DVD (which came with a vinyl LP). The brand new stereo mix is by original producer/engineer, Chris Kimsey, using transfers from the original two-inch multitrack tapes. Chris' work on the stereo mix was the basis for the new Atmos Mix.

This is a pre-order. This special Blu-ray Audio of A Space in Time will be released on 17 March 2023.

Click the circular 'Pre-order' button at the top of this page to secure your copy.
---
TECHNICAL NOTES:
 

This blu-ray audio requires a blu-ray player. Decoding the Dolby Atmos mix requires a Dolby Atmos-certified soundbar or a Dolby Atmos-compatible AV Receiver/Amp. The Dolby Atmos mix will 'fold down' to 5.1 or stereo if a Dolby Atmos decoder is not detected.  
A Space In Time, in the following versions:
Dolby Atmos Mix

DTS-HD Master Audio 5.1

1973 Quad Mix (DTS-HD Master Audio 4.0)

2023 Stereo Mix by Chris Kimsey (48/24)

Flat Transfer of the original stereo mix (48/24)
One Of These Days 
Here They Come 
I'd Love To Change The World 
Over The Hill 
Baby Won't You Let Me Rock 'N' Roll You 
Once There Was A Time 
Let The Sky Fall 
Hard Monkeys 
I've Been There Too 
Uncle Jam