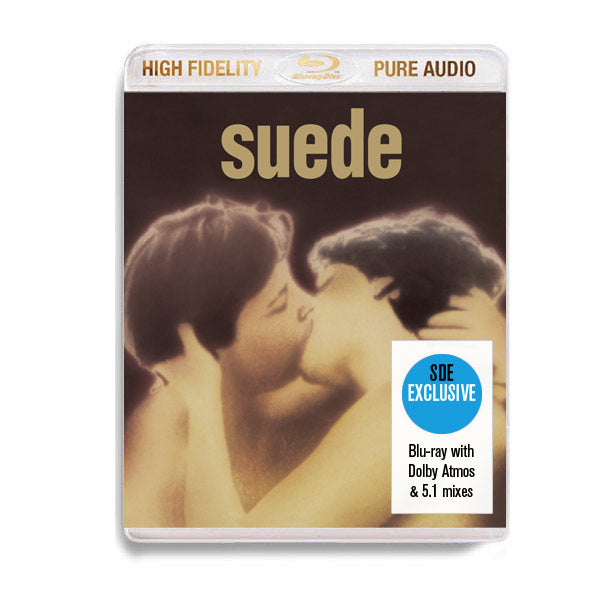 EXCLUSIVE: Suede 30th anniversary limited edition blu-ray audio
£23.00
*If you are ordering from the EU please be aware that that goods may be subject to import VAT when they arrive from the UK*
Suede 30th anniversary limited edition blu-ray audio
Exclusive • Spatial Audio remixes by Steven Wilson • HD Videos • #11 in the SDE Surround Series
*Ships with a free, collectible SDE Surround Series slipcase* 
Suede's self-titled debut album from 1993 will be reissued in July for its 30th anniversary. This special blu-ray with Steven Wilson Dolby Atmos and 5.1 mixes is exclusive to the SDE shop.
Suede is unarguably a landmark British album of the 1990s, and was both a critical and commercial triumph, winning the Mercury Music Prize and entering the UK Album Chart at number one, in April 1993 (knocking Depeche Mode's Songs of Faith and Devotion off the summit). Frontman Brett Anderson pointedly calls it "the first Britpop album" while dissociating it and Suede the band from the 'Cool Britannia' type movement that followed; "It certainly wasn't a celebration of some imaginary view of British life... some fantasy, Carnaby Street, 1960s thing" he said. Bass player Mat Osman perhaps put it best suggesting that in the wider context of Britpop, Suede was "Dr Frankenstein, but not the monster".
Such was the momentum and excitement generated by the band's first three singles ('The Drowners', Metal Mickey', and 'Animal Nitrate'), Suede sold 100,000 copies in its first week, making it one of the fastest-selling debut albums in the UK, at the time. A fourth and final single, 'So Young' was issued about a month after the album was issued in May '93.
The reissue of the band's debut LP sees a Suede album remixed for spatial audio for the first time and who better to do this than musician and producer Steven Wilson. A very successful artist in his own right, Wilson has without doubt established himself as a leader in remixing studio albums in Dolby Atmos and 5.1 surround sound. He's tackled giants from the 1970s (King Crimson, Roxy Music, Jethro Tull, Chic), pop pioneers from the 1980s (Tears For Fears, XTC, Simple Minds, Ultravox) and now with Suede, moves into the early 1990s.
"This was a genuinely magical time in my life and one for which I'll always be grateful. It felt incredible being in what I thought was quite probably the most exciting band in the world at the time, making a record which felt like more than just another band making another album".

Suede frontman, Brett Anderson
Producer Ed Buller has approved the mixes and has been impressed with Wilson's work saying: "It's wonderful that we can now revisit this 30 years later and allow Steven Wilson and his fabulous ears to reposition this music in Dolby Atmos. I am very grateful he has resisted the temptation to fix past perceived mistakes and was keen to show the original approach intact".
The SDE Exclusive blu-ray will feature the following audio streams:
2023 Steven Wilson Dolby Atmos Mix
2023 Steven Wilson 5.1 Surround Mix (96/24)
2023 Steven Wilson Stereo Mix (96/24)
1993 Definitive Original Stereo Mix (96/24)
It should be noted that, despite a massive effort, the multi-track tapes for the song 'Breakdown' could not be located, so the spatial audio versions of that one song are Penteo 'upmix' versions (the stereo remix uses the 1993 mix). The original version of the album has been remastered by Phil Kinrade using transfers of the original 1⁄2" master tapes, with the exception of 'Moving' and 'The Drowners' which were sourced from production masters. Everything was overseen and approved by producer Ed Buller.
For the first time on an SDE-exclusive blu-ray, bonus video is featured and this disc includes the following promo videos for all four Suede singles, remastered/restored to HD (their first – and possibly only – physical release):
The Drowners
Metal Mickey
Animal Nitrate
So Young
The Drowners (US Version)
The blu-ray will be region-free so international fans won't have any issues playing the disc.
TECHNICAL NOTES:
 

This blu-ray audio requires a blu-ray player. Decoding the Dolby Atmos mix requires a Dolby Atmos-certified soundbar or a Dolby Atmos-compatible AV Receiver/Amp. The Dolby Atmos mix will 'fold down' to 5.1 if a Dolby Atmos decoder is not detected. This product contains no video.

Cat no: DEMBD001
Suede in the following versions:

2023 Steven Wilson Dolby Atmos MIx
2023 Steven Wilson 5.1 Surround Mix
2023 Steven Wilson Stereo MIx
1993 Definitive Original Stereo Mix (96/24)

Suede
So Young

Animal Nitrate

She's Not Dead

Moving

Pantomime Horse

The Drowners

Sleeping Pills

Breakdown

Metal Mickey

Animal Lover

The Next Life
Remastered HD Videos
The Drowners
Metal Mickey
Animal Nitrate
So Young
The Drowners (US Version)