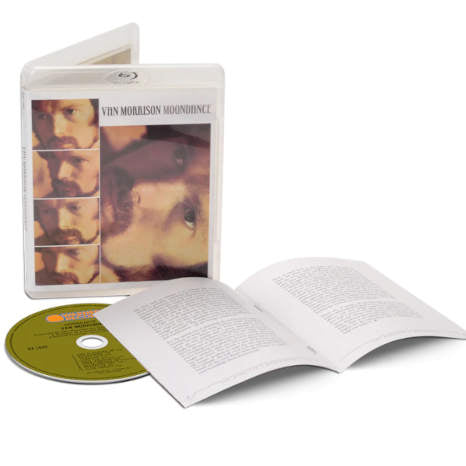 Van Morrison / Moondance blu-ray audio with Dolby Atmos Mix
£24.00


Van Morrison / Moondance blu-ray audio with Dolby Atmos Mix

2023 reissue • Blu-ray Audio (with Atmos, 5.1, instrumental and hi-res stereo) • Release date: 1 December 2023
New! *No extra charges for shipping to the EU* the SDE shop is now IOSS registered (international One Stop Shop).
A perennial favorite, MOONDANCE is often regarded as one of the best albums of all time. Ten years ago, the deluxe edition of the record was released to wide acclaim, with critics and fans basking in the context provided by previously unreleased songs from the recording session. This one extends that look behind the curtain into the "making of" a masterpiece. The RIAA-platinum certified classic was written and composed by Van Morrison himself, and is often credited with ushering in the "soft rock" era. Hits from the collection include "Come Running," "Into the Mystic," "Crazy Love," and of course, the title track "Moondance."

This blu-ray audio (no video) features: 
2022 Atmos Mix

2013 96/24 5.1 Mix

2022 96/24 Steven Wilson Remix

2013 192/24 Remastered Stereo

2022 96/24 Steven Wilson Instrumental Mix
To enjoy the spatial audio you'll need a blu-ray player connected to an Atmos-compatible soundbar or a Cinema-style amplifier/receiver with Atmos or 5.1 capability, rigged up to a multi-speaker set-up.
Moondance will be released on 1 December 2023 via Warner Records. We ship internationally.
2022 Atmos Mix
2013 96/24 5.1 Mix
2022 96/24 Steven Wilson Remix
2013 192/24 Remastered Stereo
2022 96/24 Steven Wilson Instrumental Mix
AND IT STONED ME  [4:30]

MOONDANCE  [4:35]

CRAZY LOVE  [2:34]

CARAVAN  [4:57]

INTO THE MYSTIC  [3:25]

COME RUNNING  [2:30]

THESE DREAMS OF YOU  [3:50]

 BRAND NEW DAY  [5:09]

 EVERYONE  [3:31]

 GLAD TIDINGS  [3:13]