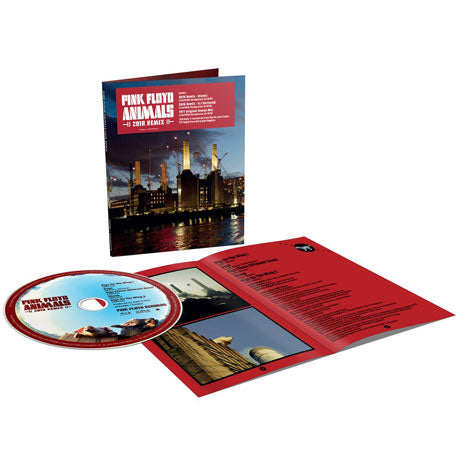 Pink Floyd / Animals 2018 mix blu-ray audio
£22.00
*If you are ordering from the EU please be aware that that goods may be subject to import VAT when they arrive from the UK*
Pink Floyd / Animals 2018 mix blu-ray audio

2018 5.1 and stereo mixes by James Guthrie 
Pink Floyd's long-awaited reissue of their 1977 studio album Animals will be issued in October this year.
The band's tenth studio album, Animals was recorded by band members David Gilmour, Nick Mason, Roger Waters and Richard Wright at Britannia Row Studios in London throughout 1976 and early 1977, and was produced by the band themselves. The record peaked at number two in the UK and number three in the US, and is considered as one of the band's best works.
This blu-ray reissue features a 2018 stereo remix and a 5.1 surround mix, both of which were created by James Guthrie. It also features the 2011 remaster of the original mix (in stereo).
Comes in a gatefold card sleeve with a 16-page booklet. and is released on 16 September 2022 via Pink Floyd Records/Warner Music.
TECHNICAL NOTES: This blu-ray audio requires a blu-ray player. Decoding the 5.1 surround mix requires an AV amplifier and external speaker set up (or soundbar equivalent)
Blu-Ray Audio Mixes
2018 Remix - 5.1 Surround: 24-bit/96kHz Uncompressed, dts-HD MA
1977 Original Stereo: 24-bit/192kHz Uncompressed, dts-HD MA
2018 Stereo Remix
Pigs On The Wing
Dogs
Pigs (Three Different Ones)
Sheep
Pigs On The Wing
2018 Remix 5.1 Surround – 96kHz/24-bit 
Pigs On The Wing 1
Dogs
Pigs (Three Different Ones)
Sheep
Pigs On The Wing
Original 1977 Mix – 2011 Remaster
Pigs On The Wing
Dogs
Pigs (Three Different Ones)
Sheep
Pigs On The Wing