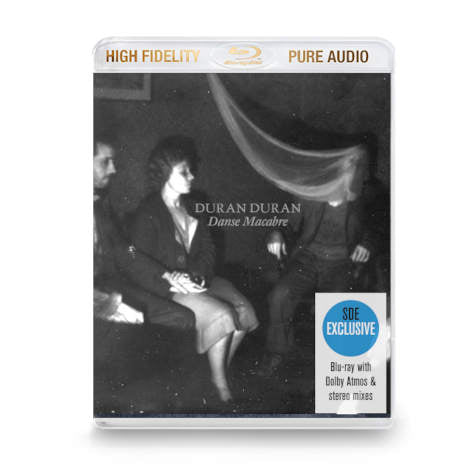 Duran Duran / Danse Macabre SDE-exclusive blu-ray audio
£23.00


Duran Duran / Danse Macabre limited edition blu-ray audio
Exclusive to the SDE shop • Dolby Atmos Mix • Stereo Mix • #13 in the SDE Surround Series • Release date 27 October 2023
New! *No extra charges for shipping to the EU* the SDE shop is now IOSS registered (international One Stop Shop).
*Ships with a free, collectible SDE Surround Series slipcase*
In collaboration with BMG, SDE presents the physical release of the Dolby Atmos Mix of Duran Duran's new studio album acclaimed 1997 album Danse Macabre.
This record sees the original line-up back together for many of the tracks as Nick Rhodes, Andy Taylor, Roger Taylor, John Taylor, and Simon Le Bon reunite for the first time since 2004's Astronaut! Fans of '90s-era Duran will be further delighted to see the return of guitarist Warren Cuccurullo who guests on a few songs (including the title track), making this the first Duran Duran album since 1986's Notorious to feature the guitar playing of both Andy Taylor and Warren Cuccurullo.
Inspired by the band's one-off, 2022 Halloween show at the Encore Theater in Las Vegas, Danse Macabre is a spooky, ghoul-inspired 13-song collection which features three brand new songs, covers of classic tracks from artists such as Talking Heads, The Rolling Stones and Siouxsie and the Banshees and new versions of tracks from Duran Duran's back catalogue, including debut album track 'Night Boat', 'Union of the Snake' B-side 'Secret Oktober' (now 'Secret Oktober 31st'), a re-spelt 'Love Voudou' from The Wedding Album, and Rio's 'Lonely in Your Nightmare', which is mashed up with with a cover of Rick James' 'Super Freak' for a song called 'Super Lonely Freak'. In total, nine of the album's 13 tracks were performed for last year's Halloween show.
Other guests on the album include longtime friend and collaborator Nile Rodgers along with Victoria De Angelis of Måneskin. The artwork features images adapted from a collection of authentic vintage séance photos that band member Nick Rhodes sourced at auction.
Danse Macabre has been mixed for spatial audio and a Dolby Atmos Mix will be available physically only via this SDE-exclusive blu-ray audio, what is No 13 in the ongoing SDE Surround Series! The Atmos Mix has been created by the legend that is Bob Clearmountain and this is the first time a Duran Duran album has been mixed for Atmos and released as a physical product and only the second time since the Astronaut Dualdisc/SACD that any of their albums has been available physically in surround sound. The blu-ray features:
Dolby Atmos Mix (by Bob Clearmountain)
5.1 Surround Mix (48/24)
Hi-Res Stereo Mix (96/24)
Danse Macabre will be released on 27 October 2023 via BMG. 
This Duran Duran Blu-ray Audio is #13 in the ongoing SDE Surround Series and will be packaged similarly to previous editions and will ship with a collectible SDE Surround Series slipcase.
Do not miss out. This product is a limited edition and has a 7 day pre-order window, which closes on 10 September 2023.

Click the circular 'Pre-order' button at the top of this page to secure your copy.
---


TECHNICAL NOTES:
 

This blu-ray audio requires a blu-ray player. Decoding the Dolby Atmos mix requires a Dolby Atmos-certified soundbar or a Dolby Atmos-compatible AV Receiver/Amp. The Dolby Atmos mix will 'fold down' to 5.1 or stereo if a Dolby Atmos decoder is not detected. This product contains no video.
Danse Macabre, in the following versions:
Dolby Atmos Mix (by Bob Clearmountain)
5.1 Surround Mix (48/24)

Hi-Res Stereo Mix (96/24)
Nightboat
Black Moonlight *
Love Voudou
Bury A Friend
Supernature
Danse Macabre *
Secret Oktober 31st
Ghost Town
Paint It Black
Super Lonely Freak
Spellbound
Psycho Killer
Confession in the Afterlife *
*new Duran Duran song