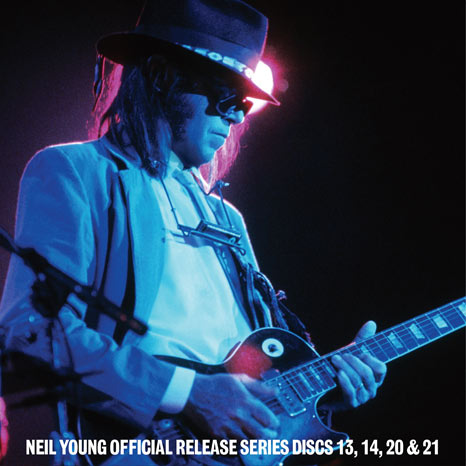 Neil Young / Official Release Series Vol 4 - 4CD box set
£45.00
*If you are ordering from the EU please be aware that that goods may be subject to import VAT when they arrive from the UK*
4CD vinyl box set 
Neil Young will releases Volume 4 of his occasional 'Official Release Series' box sets. The ORS series sees original albums remastered and reissued and this forthcoming box contains discs 13, 14, 20 & 21.
Those discs equate to the following albums from the 1980s: Hawks & Doves (1980), Re•ac•tor (1981), and This Note's for You (1988), and the Eldorado EP (1989). The three albums are very different and fairly well known, although the Eldorado EP was only issued in Japan and sees Young backed by The Restless (Chad Cromwell and Rick Rosas) and features two tracks – 'Cocaine Eyes' and 'Heavy Love' - unavailable on any other album.
This box set is 4CD package and is released by Warner Records on 29 April 2022.
CD 1 Hawks & Doves:
Little Wing
The Old Homestead
Lost in Space
Captain Kennedy
Stayin' Power
Coastline
Union Man
Comin' Apart at Every Nail
Hawks & Doves 
CD 2 Re•ac•tor
Opera Star
Surfer Joe and Moe the Sleaze
T-Bone
Get Back on It
Southern Pacific
Motor City
Rapid Transit
Shots
CD 3 This Note's For You
Ten Men Workin'
This Note's for You
Coupe de Ville
Life In The City
Twilight
Married Man
Sunny Inside
Can't Believe Your Lyin'
Hey Hey
One Thing
CD 4 Eldorado
Cocaine Eyes
Don't Cry
Heavy Love
On Broadway
Eldorado