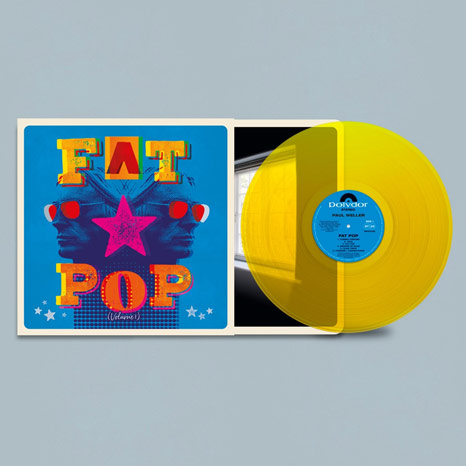 Paul Weller / Fat Pop (Volume 1) Limited edition transparent yellow vinyl
£27.99
Fat Pop (volume 1) - limited yellow vinyl
Fat Pop (Volume 1) – Paul adding the "Volume 1" to keep options open for a second volume in the future - is a diverse selection of sounds. No one style dominates.
There's the synth-heavy, future-wave strut of Cosmic Fringes, the stately balladeering of 'Still Glides The Stream' (co-written with Steve Cradock), the chunky percussive groove of 'Moving Canvas' (a tribute to Iggy Pop no less), and the kind of dramatic immediate pop symphonies on 'Failed', 'True' and 'Shades of Blue' with which Paul Weller has hooked in generation after generation of devotee.

As ever, Fat Pop, sees a number of guests contributing including Lia Metcalfe, the young Liverpudlian singer with The Mysterines who combines her tremendous vocal as well as a song writing credit to 'True'. Andy Fairweather Low adds his
distinctive vocals to superfly strutting 'Testify' and Paul's daughter Leah co-wrote and features on the classic three-minute pop kitchen sink drama 'Shades Of Blue' which will be the first single taken from the album. Hannah Peel is back in the fray
adding her classic string scores to 'Cobweb Connections' and 'Still Glides The Stream'.
COSMIC FRINGES
TRUE
FAT POP
SHADE OF BLUE
GLAD TIMES
COBWEB / CONNECTIONS
TESTIFY
THAT PLEASURE
FAILED
MOVING CANVAS
IN BETTER TIMES
STILL GLIDES THE STREAM