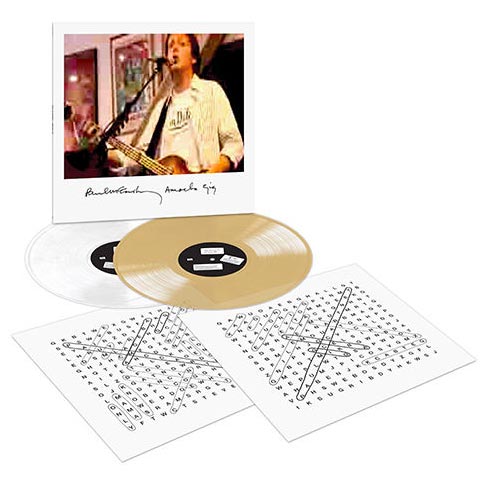 Paul McCartney / Amoeba Gig limited 2LP coloured vinyl
£20.00 £40.00
Amoeba Gig limited 2LP coloured vinyl
The first full commercial release of Paul McCartney's 2007 free gig at Hollywood's Amoeba Music (he was promoting Memory Almost Full at the time).
This is newly remixed for this release and includes a bonus track 'Coming Up' (soundcheck).
This is the limited edition 2LP version pressed on 'hazy amber' and transparent coloured vinyl.
Amoeba Gig 2LP vinyl (same tracks on the CD)
A1. Drive My Car
A2. Only Mama Knows
A3. Dance Tonight
A4. C Moon
A5. The Long And Winding Road
A6. I'll Follow The Sun
B1. Calico Skies
B2. That Was Me
B3. Blackbird
B4. Here Today
B5. Back In The USSR
B6. Nod Your Head
C1. House Of Wax
C2. I've Got A Feeling
C3. Matchbox
C4. Get Back
D1. Baby Face
D2. Hey Jude
D3. Let It Be
D4. Lady Madonna
D5. I Saw Her Standing There
D6. Coming Up [Soundcheck]