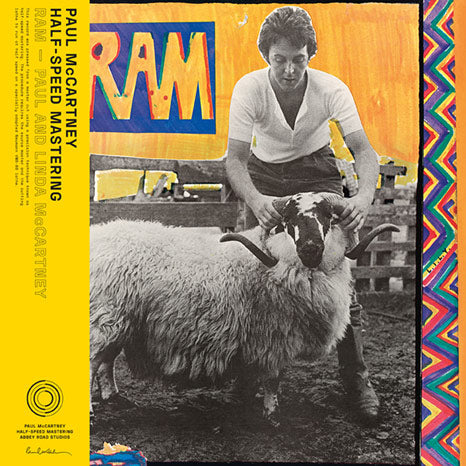 Paul and Linda McCartney / Ram 50th anniversary half-speed mastered vinyl
£20.00 £35.00
RAM - half-speed mastered vinyl

50th anniversary limited edition


Paul and Linda McCartney's 1971 album Ram is to be reissued in May for its 50th anniversary. A limited edition half-speed mastered vinyl edition will be released.

Recorded pre-Wings, with drummer Denny Seiwell and guitarists David Spinozza and Hugh McCracken, the album exudes a homespun, lo-fi vibe and wasn't particularly well received at the time but is now widely considered to be one of Paul's most accomplished post-Beatles works
There are no big UK hits on the record. The best known track on Ram is probably 'Uncle Albert/Admiral Halsey' which astonishingly, reached number one on the Billboard Hot 100 (although wasn't a single in Britain). The non-album track 'Another Day' preceded the release of the album.
The 50th anniversary half-speed mastered vinyl edition follows the same treatment given to the McCartney album, which was issued last year for record store Day. The new Ram vinyl will be very limited and will only be available via indie stores and McCartney/Universal channels.
Ram is reissued on 14 May 2021. Strictly one copy per customer.