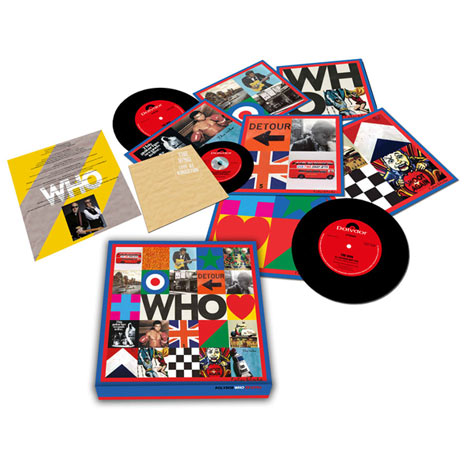 The Who / WHO limited numbered 7" box set with Live at Kingston CD
£39.00
The Who's acclaimed 2019 album WHO is reissued as this special limited edition 7" box set
The 2020 deluxe edition features Pete Townshend's remix of Beads On One String plus The Who Live at Kingston, a special acoustic performance recorded on 14th February 2020, recorded 50 years to the day since the seminal Live at Leeds show.
It features the 11-track album plus one bonus cut - a remix of Beads On One String - across six black seven-inch singles, each with their own picture sleeve.
This also comes with a bonus CD of The Who Live in Kingston, which features acoustic live tracks.
This box is released on 4 December 2020. 
WHO 7" box set 

A1. All This Music Must Fade

A2. Ball and Chain.       


B1. I Don't Wanna Get Wise

B2. Detour
 

C1. Beads On One String

C2. Hero Ground Zer


D1. Street Song

D2. I'll Be Back


E1. Break The News

E2. Rockin' In Rage


F1. She Rocked My World

F2. Beads On One String – Yaggerdang Remix



+ The Who 'Live at Kingston' CD
1. Intro
2. Substitute (Acoustic – Live at Kingston)
3. Squeeze Box (Acoustic – Live at Kingston)
4. Tattoo (Acoustic – Live at Kingston)
5. The Kids Are Alright (Acoustic – Live at Kingston)
6. Break The News (Acoustic – Live at Kingston)
7. She Rocked My World (Acoustic – Live at Kingston)
8. Won't Get Fooled Again (Acoustic – Live at Kingston)