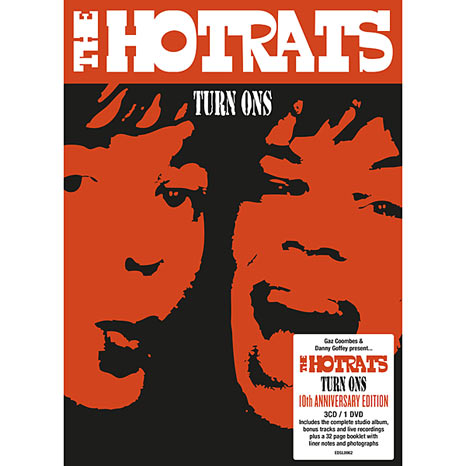 The Hotrats / Turn Ons 3CD+DVD deluxe
£20.00 £29.99
Turn Ons 3CD+DVD deluxe edition
Supergrass' Gaz & Danny • 3CD+DVD set 
Supergrass side project The Hotrats (Gaz Coombes and Danny Goffey) released a covers album, Turn Ons, in 2010. That album has now been expanded and will be reissued as a 3CD+DVD box set.
Produced by Nigel Godrich, the album showcases the band's classic rock influences with takes on Bowie, the Kinks, Pink Floyd and more. This reissue includes the original album, rare bonus studio recordings and the complete and previously unreleased 'live in Tokyo' show. The third CD is instrumentals, or Karaoke with The Hotrats along with an exclusive alternate version of 'Drive My Car' and a new song; a cover of Kelis' 'Milkshake'.
The DVD features all three of the band's music videos and an interview with Gaz and Danny about the recording of Turn Ons. This package comes complete with a 32-page booklet featuring previously unpublished photographs and notes by Daniel Perry.
This is issued on 17 July 2020 via Edsel (was 19 June).