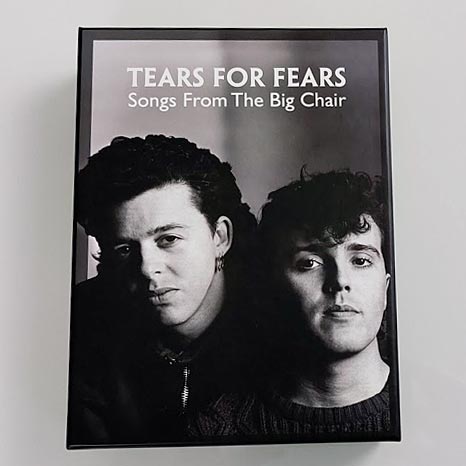 Tears For Fears / Songs From The Big Chair super deluxe edition box set
£50.00
Songs From The Big Chair 4CD+2DVD super deluxe box
Originally issued in November 2014, this reissue of Tears For Fears' 1985 album Songs From The Big Chair features four CDs and two DVDs.

This set delivers a truly phenomenal amount of audio with every commercially issued b-side and remix of the era included, along with previously unreleased radio sessions and early mixes.

The first DVD includes Steven Wilson's 5.1 surround mix (and his stereo mix) while the second brings together the Scenes From The Big Chair documentary, a long interview with producer Chris Hughes, promo videos and TV appearances. Both DVDs are NTSC, region-free.
This is a lift off lid box set that it comes with a tour booklet replica and a second booklet with band and producers discussing the album 'in their own words' (interviews edited and conducted by SDE's Paul Sinclair). There is also a detailed guide to the bonus material.
Songs From The Big Chair - 4CD+DVD super deluxe edition

DISC ONE - Album with special cassette-only bonus tracks recreated

01. SHOUT : 6:31
02. THE WORKING HOUR : 6:29
03. EVERYBODY WANTS TO RULE THE WORLD : 4:09
04. MOTHERS TALK : 5:04
05. I BELIEVE : 4:54
06. BROKEN : 2:38
07. HEAD OVER HEELS : 5:02
08. LISTEN : 6:54

Bonus tracks

09. THE BIG CHAIR : 3:20
10. EMPIRE BUILDING : 2:41
11. THE MARAUDERS : 4:13
12. BROKEN REVISITED : 5:15
13. THE CONFLICT : 4:02
14. THE WORKING HOUR - Piano Version : 2:08
15. PHARAOHS : 03:42
16. WHEN IN LOVE WITH A BLIND MAN : 2:22
17. SEA SONG : 3:51

DISC TWO – Edited Songs From The Big Chair

01. THE WAY YOU ARE : 4:49
02. MOTHERS TALK - Single Version : 3:53
03. SHOUT - Single Version : 5:58
04. EVERYBODY WANTS TO RULE THE WORLD - Single Version : 4:14
05. HEAD OVER HEELS - Remix : 4:15
06. I BELIEVE (A Soulful Re-Recording) : 4:39
07. EVERYBODY WANTS TO RUN THE WORLD : 4:30
08. THE WAY YOU ARE - Short Version : 4:21
09. MOTHERS TALK - U.S. Remix : 4:14
10. SHOUT - U.S. Single Version : 4:51
11. EVERYBODY WANTS TO RUN THE WORLD - Running Version : 4:30
12. HEAD OVER HEELS - Radio Version : 4.20
13. MOTHERS TALK - Video Version : 4:14
14. SHOUT - Short Version : 4:03
15. LISTEN - Clean Intro : 6:52
15. INTERVIEW WITH CURT & ROLAND : 7:35

DISC THREE – Remixed Songs From The Big Chair (exclusive to box)

01. THE WAY YOU ARE - Extended Version : 7:37
02. MOTHERS TALK - Extended Version : 6:18
03. SHOUT - Extended Remix Version : 7:40
04. EVERYBODY WANTS TO RULE THE WORLD - Extended Version : 5:40
05. BROKEN / HEAD OVER HEELS / BROKEN - Preacher Mix : 8:00
06. MOTHERS TALK - Beat Of The Drum Mix : 8:54
07. SHOUT - U.S. Remix : 8:02
08. EVERYBODY WANTS TO RULE THE WORLD - Urban Mix : 6:06
09. MOTHERS TALK - U.S. Remix alternate : 4:12
10. SHOUT - Dub : 6:49
11. EVERYBODY WANTS TO RULE THE WORLD - Instrumental : 4:21
12. SHOUT - Acappella : 5:02

DISC FOUR – Unreleased Songs From The Big Chair (exclusive to box)

01. HEAD OVER HEELS : 4:14 Richard Skinner Session
02. THE WORKING HOUR : 6:06 Richard Skinner Session
03. BROKEN : 3:19 Richard Skinner Session
04. MOTHERS TALK : 4:05 Live At Massey Hall
05. BROKEN / HEAD OVER HEELS : 5:01 Live At Massey Hall
06. MEMORIES FADE : 6:50 Live At Massey Hall
07. THE WORKING HOUR : 7:31 Live At Massey Hall
08. EVERYBODY WANTS TO RULE THE WORLD : 4:19 Live At Massey Hall
09. SHOUT : 7:50 Live At Massey Hall
10. MOTHERS TALK - Early Mix / Instrumental : 4:39
11. THE WAY YOU ARE - Early Mix : 4:25
12. BROKEN - Early Mix : 5:38
13. SHOUT - Early Mix : 5:08
14. EVERYBODY WANTS TO RULE THE WORLD - Alternate Single Version: 4.20

DISC FIVE (DVD)

5.1 and Stereo mix

SHOUT : 6:32
THE WORKING HOUR : 6:31
EVERYBODY WANTS TO RULE THE WORLD : 4:11
MOTHERS TALK : 5:10
I BELIEVE : 4:54
BROKEN : 2:38
HEAD OVER HEELS : 5:20
LISTEN : 6:49

DISC SIX (DVD)

Documentary

01. SCENES FROM THE BIG CHAIR - Documentary : 1:14:43
02. INTERVIEW WITH PRODUCER CHRIS HUGHES : 35:00
Promos

03. THE WAY YOU ARE - Music Video : 3:57
04. MOTHERS TALK - Alternative UK Video : 4:00
05..MOTHERS TALK - Music Video : 4.49
06. SHOUT - Music Video : 6:31
07. EVERYBODY WANTS TO RULE THE WORLD - Music Video : 4:52
08. HEAD OVER HEELS - Music Video : 4:26
09. I BELIEVE - Music Video : 4:45
10. MOTHERS TALK - US Mix - Music Video : 4:52
11. EVERYBODY WANTS TO RUN THE WORLD - Music Video : 4:52
BBC TV Appearances

03. THE WAY YOU ARE : 4:11 Top Of The Pops
04. MOTHERS TALK : 3:48 Top Of The Pops
05. MOTHERS TALK : 3:51 Top Of The Pops
06. SHOUT : 4:20 Top Of The Pops
07. EVERYBODY WANTS TO RULE THE WORLD : 4:08 Wogan
08. EVERYBODY WANTS TO RULE THE WORLD : 3.35 Top Of The Pops
09. EVERYBODY WANTS TO RULE THE WORLD : 3.45 Top Of The Pops
10. THE WORKING HOUR : 4:28 Wogan