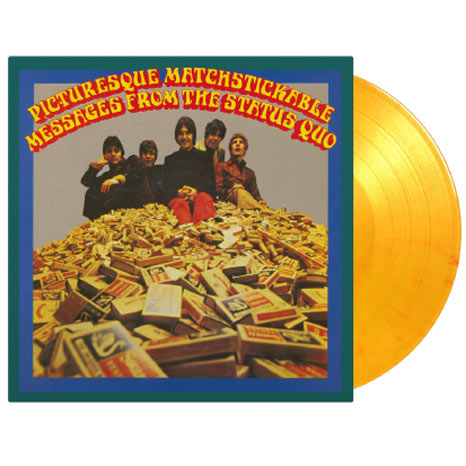 Status Quo / Picturesque Matchstickable Messages From The Status Quo limited yellow vinyl with mono and stereo mixes
£27.00
Picturesque Matchstickable Messages from the Status Quo limited 2LP coloured vinyl
180g 2LP vinyl • Mono and Stereo Mixes • Limited to 2000 • Coloured vinyl
RELEASE DATE GONE BACK TO 2ND OCT
In 1968 Status Quo's first hit record 'Pictures of Matchstick Men' was released and the debut album soon followed. The single reached #7 in the UK, and remains the band's only major hit single in the US, where it reached #12.
Picturesque Matchstickable Messages from the Status Quo features several covers, including "Green Tambourine" by The Lemon Pipers and "Spicks and Specks" by The Bee Gees.
South  London  members Alan  Lancaster  (bass)  and  Francis  Rossi (guitar) were the original members and founders of Status Quo. Formerly known as The Spectres and later renamed to Traffic or Traffic Jam they settled for Status Quo as their band name in 1967. The following years they were joined by John Coghlan (drums), Roy Lynes (keyboard) and Rick Parfitt (guitar).
Available as a one off limited edition of 2000 individually numbered copies on flaming coloured vinyl.
This is released on 18 September 2020 via Music On Vinyl
SIDE A (MONO VERSION)
1. Black Veils Of Melancholy
2. When My Mind Is Not Alive
3. Ice In The Sun
4. Elizabeth Dreams
5. Gentleman Joe's Sidewalk Café
6. Paradise Flat
SIDE B (MONO VERSION)
1. Technicolor Dreams
2. Spicks And Specks
3. Sheila
4. Sunny Cellophane Skies
5. Green Tambourine
6. Pictures Of Matchstick Men
SIDE C (STEREO VERSION)

1. Black Veils Of Melancholy
2. When My Mind Is Not Alive
3. Ice In The Sun
4. Elizabeth Dreams
5. Gentleman Joe's Sidewalk Café
6. Paradise Flat
SIDE D (STEREO VERSION)
1. Technicolor Dreams
2. Spicks And Specks
3. Sheila
4. Sunny Cellophane Skies
5. Green Tambourine
6. Pictures Of Matchstick Men