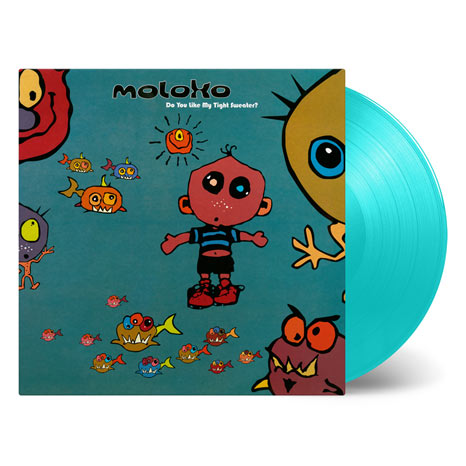 Moloko / Do You Like My Tight Sweater? Limited edition 2LP coloured vinyl
£25.00
Do You Like My Tight Sweater? limited 2LP turquoise vinyl 
The English-Irish electronic/dance duo Moloko released their first album Do You Like My Tight Sweater? in 1995. It's one of their most experimental records, before moving on to a more mainstream approach. Roisin Murphy is carrying the album with her versatile vocals, both in range and style, while Mark Brydon created the breakbeats, sound effects and groovy disco lines. This is electronica at its best, danceable and funky.
The album includes their hits ""Fun for Me" and "Dominoid", besides fan favourites like "Day for Night" and "Where Is the What If the What Is in Why?". They never slow down in their exiting music and absurd lyrics, but that's exactly what makes this record unforgettable. Pure joy to be danced on all night.
Do You Like My Tight Sweater? is released by Music On Vinyl and is available as a limited edition of 3000 numbered copies on turquoise vinyl. Other Moloko coloured vinyl reissues will follow later this year. 
Note: Images of vinyl colours are illustrative only. Actual vinyl colours may vary.  
Side A

1. Fun For Me
2. Tight Sweater
3. Day For Night
4. I Can't Help Myself
5. Circus
Side B
1. Lotus Eaters
2. On My Horsey
3. Dominoid
Side C
1. Party Weirdo
2. Tubeliar
3. Ho Humm
4. Butterfly 747
5. Dirty Monkey
Side D
1. Killa Bunnies
2. Boo
3. Where Is The What If The What Is In Why?
4. Who Shot The Go Go Dancer?