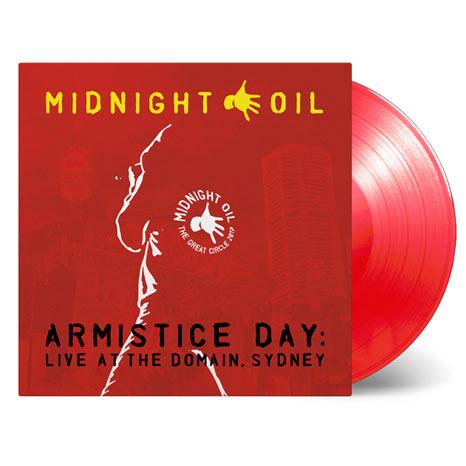 Midnight Oil / Armistice Day: Live at the Domain, Sydney / limited edition 3LP coloured vinyl
£32.00
Armistice Day: Live At The Domain, Sydney - limited edition 3LP transparent red vinyl
2000 limited edition • 3-fold gatefold sleeve • 12-page booklet • 180g vinyl • numbered • Live recording from 2017
In 2017, Midnight Oil toured for the first time in over 15 years. 'The Great Circle World Tour' commenced in Sydney, travelled to 16 countries, completed 76 performances in six months and concluded at The Domain in Sydney in November 2017.
That performance of their final show at the Domain was recorded and now available on this special limited edition 3LPs vinyl set.
The band performed hits, such as "Beds Are Burning" and "Blue Sky Mine" as well as fan favourites like "Read About It" and "Only the Strong". 
 Armistice Day: Live At The Domain, Sydney showcases Midnight Oil at their finest and this release from Music on Vinyl is available as a limited edition of 2000 individually numbered copies on transparent red vinyl and the package includes an extensive 12-page booklet. 
SIDE A
1. Armistice Day
2. Read About It
3. Hercules
4. Section Five (Bus to Bondi)
5. Treaty (feat. YIRRMAL)
SIDE B
1. Beds Are Burning
2. Ships of Freedom
3. Warakurna
4. US Forces
SIDE C
1. Blue Sky Mine
2. Stand In Line
3. Power and the Passion
4. Forgotten Years
SIDE D
1. Redneck Wonderland
2. Don't Wanna Be the One
3. Put Down That Weapon
4. Kosciuszko
5. Only the Strong
SIDE E
1. The Dead Heart
2. No Time for Games
3. Short Memory
SIDE F
1. Truganini
2. Dreamworld
3. Golden Age
4. Sometimes
5. King of the Mountain