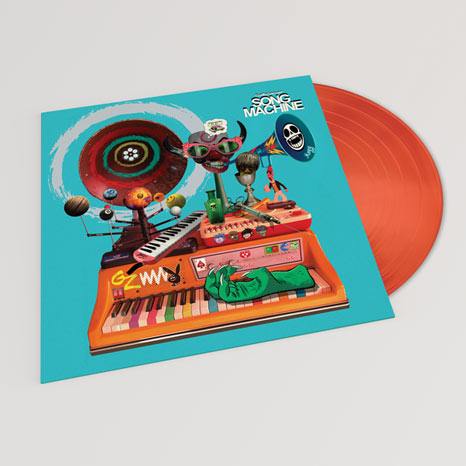 Gorillaz / Song Machine: Season One - Strange Timez / indie-exclusive orange vinyl LP
£20.00
Song Machine: Season One - Strange Timez 140g orange vinyl LP

Gorillaz started the year with Episode 1 - 'Momentary Bliss ft. slowthai and Slaves' - of Song Machine, a whole new concept from one of the most innovative bands around. Now, six episodes in, Noodle, 2D, Murdoc and Russel have visited Morocco and Paris, London and Lake Como, as well as travelling all the way to the moon, and Gorillaz is ready to bring you the full collection titled Song Machine: Season One - Strange Timez.
Song Machine is the ongoing and ever-evolving process which has seen Gorillaz joined by an expanding roster of collaborators captured live in Kong Studios and beyond. The result is an expansive collection of tracks embracing a myriad of sounds, styles, genres and attitudes from a breath-taking line-up of guest artists including Beck, Elton John, Fatoumata Diawara, Georgia, Kano, Leee John, Octavian, Peter Hook, Robert Smith, Roxani Arias, ScHoolboy Q, Slaves, Slowthai, St Vincent and 6LACK.
Virtual band Gorillaz is singer 2D, bassist Murdoc Niccals, guitarist Noodle and drummer Russel Hobbs. Created by Damon Albarn and Jamie Hewlett, their acclaimed eponymous debut album was released in 2001. The BRIT and Grammy Award winning band's subsequent albums are Demon Days (2005), Plastic Beach (2010), The Fall (2011), Humanz (2017) and The Now Now (2018). A truly global phenomenon, Gorillaz have achieved success in entirely ground-breaking ways, touring the world from San Diego to Syria, winning numerous awards including the coveted Jim Henson Creativity Honor.
 
Song Machine: Season One - Strange Timez is released on 23 October 2020.

1. Strange Timez (feat. Robert Smith)
2. The Valley of The Pagans (feat. Beck)
3. The Lost Chord (feat. Leee John)
4. Pac-Man (feat. ScHoolboy Q)
5. Chalk Tablet Towers (feat. St Vincent)
6. The Pink Phantom (feat. Elton John and 6LACK)
7. Aries (feat. Peter Hook and Georgia)
8. Friday 13th (feat. Octavian)
9. Dead Butterflies (feat. Kano and Roxani Arias)
10. Désolé (feat. Fatoumata Diawara) [Extended Version]
11. Momentary Bliss (feat. Slowthai and Slaves)