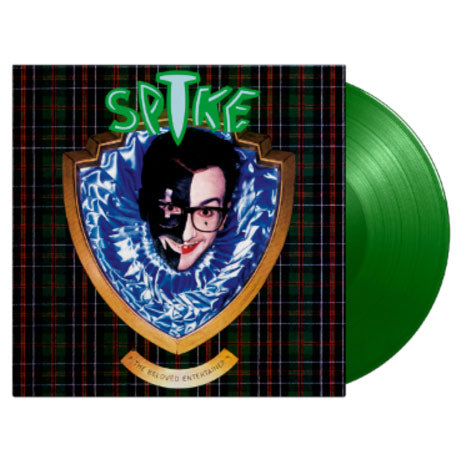 Elvis Costello / Spike limited edition 2LP green vinyl
£35.00
Spike limited edition 2LP green vinyl

2LP green vinyl • 2500 only •  Gatefold sleeve • Numbered


Elvis Costello's 1989 album Spike is to be reissued as a special limited edition 2LP green vinyl pressing in March.
The record was notable for being Costello's first album without the Attractions since his 1977 debut, My Aim is True, and for being the first long-player to feature the fruits of his writing sessions with Paul McCartney (Spike was issued four months before Macca's own Flowers in the Dirt, in February 1989).
The McCartney/MacManus penned 'Veronica' was the lead single and reached number 19 in the Billboard Hot 100. It remains Costello's biggest hit in the US. Album track, 'Pads, Paws and Claws' is the other Macca collaboration on Spike.
The album was Elvis Costello's first for Warner Bros. and was produced with T Bone Burnett and Kevin Killen with sessions taking place in Dublin, New Orleans, Los Angeles and London. Other tracks include Deep Dark Truthful Mirror, Let Him Dangle, Tramp The Dirt Down and God's Comic.
Like Brutal Youth in 2020, Spike is being issued across two vinyl records for the first time which makes a lot of sense when you consider the original vinyl contained 60 minutes of music! This actually allows for the reinstatement of song 'Coal Train Robberies', which was omitted from the original vinyl, only appearing on cassette and CD (as the penultimate track).
The new 2LP set comes packaged in a gatefold sleeve and the records are pressed on light green vinyl, a shade personally chosen by Elvis Costello, we are assured. These are numbered and limited to 2500 copies worldwide.
This limited 2LP vinyl reissue of Spike is released on 4 March 2022 via Music On Vinyl.
Side A
...This Town... 4:26
Let Him Dangle 4:44
Deep Dark Truthful Mirror 4:03
Veronica 3:10
Side B

God's Comic 5:27
Chewing Gum 3:43
Tramp The Dirt Down 5:40
Side C

Stalin Malone 4:04
Satellite 5:42
Pads, Paws And Claws 2:54
Baby Plays Around 2:48
Miss MacBeth 4:22
Side D
Any King's Shilling 6:03
Coal-Train Robberies
Last Boat Leaving