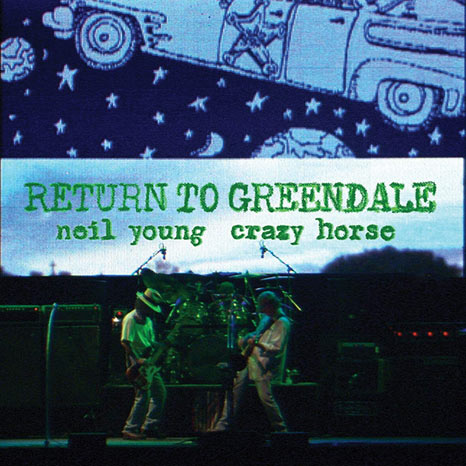 Neil Young and Crazy Horse / Return to Greendale limited edition box set
£90.00
2CD+2LP+Blu-ray+DVD box set
Neil Young continues his Performance Series archive releases with Return to Greendale a CD, vinyl and box set offering with audio and video from his 2003 tour in support of the Greendale album (issued in 2002).

On the tour, Neil Young and Crazy Horse were joined on stage by a large cast of singers and actors to perform the story Neil Young wrote about the small town of Greendale and how a dramatic event affects the people living there. The ten songs from the original album are performed in sequence, with the cast speaking the sung words. It blends together the live performance, the actors portraying each song, with the story occasionally enhanced by scenes from the Greendale - The Movie.
Return to Greendale is being issued as a two-CD and 2LP vinyl set but also as a limited edition deluxe box set which includes a blu-ray of the full concert film and a DVD of Inside Greendale (the making of the album documentary). The box sets are numbered.
Both the live concert film and the Inside Greendale documentary are directed by Bernard Shakey (you know who that is) and produced by L. A. Johnson.
Return to Greendale will be released on 6 November 2020, via Warner Records.
2LP
Side A
01 Falling From Above (Live)
02 Double E (Live)
03 Devil's Sidewalk (Live)
Side B
04 Leave The Driving (Live)
05 Carmichael (Live)
06 Bandit (Live)
Side C
07 Grandpa's Interview (Live)
08 Bringin' Down Dinner (Live)
Side D
09 Sun Green (Live)
10 Be The Rain (Live)
2CD
CD1
01 Falling From Above (Live)
02 Double E (Live)
03 Devil's Sidewalk (Live)
04 Leave The Driving (Live)
05 Carmichael (Live)
06 Bandit (Live)
CD2
07 Grandpa's Interview (Live)
08 Bringin' Down Dinner (Live)
09 Sun Green (Live)
10 Be The Rain (Live)
Blu Ray: Film Version Of The Live Concert
DVD: Inside Greendale – making of the album documentary