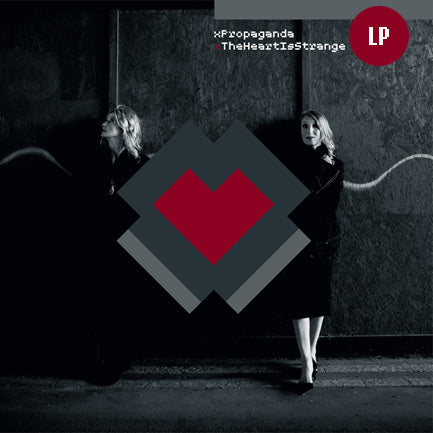 xPropaganda / The Heart is Strange black vinyl LP
£27.00
*If you are ordering from the EU please be aware that that goods may be subject to import VAT when they arrive from the UK*
The Heart Is Strange black vinyl LP
Original Propaganda vocalists Claudia Brücken and Susanne Freytag reunite with A Secret Wish producer Stephen Lipson for an incredible new album called The Heart Is Strange, released under the banner xPropaganda.
The band played some gigs in 2018 – including two showcase dates at London's The Garage, and inspired by this experience, Brücken and Freytag reconvened with Stephen Lipson to write new music and over two years later The Heart Is Strange is the result.
It seems wholly appropriate that the record will be issued on the iconic ZTT label (now owned by Universal Music). You could say, the album is like the the follow-up to A Secret Wish that we were denied all those years ago, and you might suggest that the duo have come full circle. It's that good. Electronic, epic and an emotional listen, The Heart Is Strange is full of pulsing widescreen soundscapes and great songs, such as the driving opener 'The Night', the defiant pop of 'Don't Mess With Me', the yearning 'No Ordinary Girl', and the moving near 10-minute denouement 'Ribbons of Steel'. Take my word for it, you will love this album! I've been lucky enough to have had early access and have been playing it non-stop, for weeks.
This is a special two-CD set with a unique bonus disc featuring an instrumental version of the entire album. It is presented as an 8-panel digipak.
The Heart Is Strange is released on 20 May 2022 via ZTT/UMC.
The Heart Is Strange

1 The Night
2 Chasing Utopia
3 Beauty Is the Truth
4 Only Human
5 Don't (You Mess with Me)
6 No Ordinary Girl
7 The Wolves Are Returning
8 Ribbons of Steel