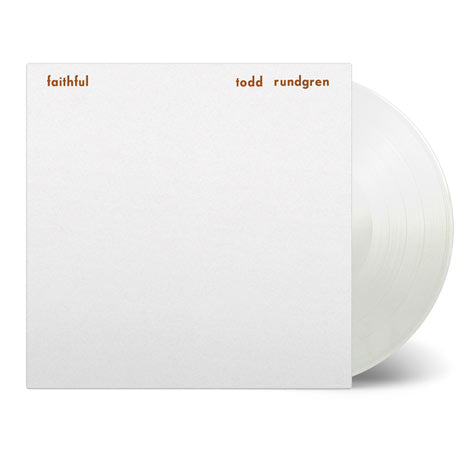 Todd Rundgren / Faithful limited edition coloured vinyl
£22.00
Faithful white vinyl
1000 units only • Insert • 180g
Todd Rundgren's seventh studio album Faithful can be split into two parts, the first side focussing on classic 1960s psychedelic-era songs, while side two are all songs written by the master himself. The album's group of musicians was exact the same as his Utopia project during the time of release (1976). By celebrating both the past as the future he stood in between the two parts of his career. The covers on side one are re-creations, where Todd faithfully replicated the sound of The Beatles, Jimi Hendrix, The Beach Boys, The Yarbirds, and Bob Dylan. The second part is full of amazing pop and rock songs, all penned down by Rundgren. Both pop fans as people who are interested in the psychedelic area would love this record.
Faithful is issued by Music On Vinyl and available as a limited edition of 1000 individually numbered copies on white coloured vinyl.
Note: Image on this listing is for illustration only. Actual colours may vary.
SIDE A

1. Happenings Ten Years Time Ago 2. Good Vibrations 3. Rain 4. Most Likely You Go Your Way And I'll Go Mine 5. If Six Was Nine 6. Strawberry Fields Forever

Side B

1. Black And White 2. Love Of The Common Man 3. When I Pray 4. Cliché 5. The Verb "To Love" 6. Boogies (Hamburger Hell)