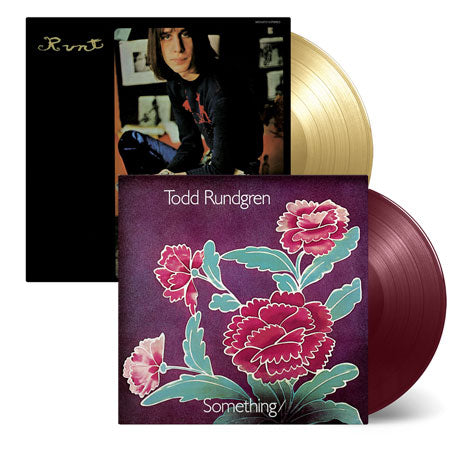 Todd Rundgren BUNDLE: Runt coloured vinyl LP + Something/Anything? 2LP coloured vinyl
£45.00
Todd Rundgren coloured 3LP vinyl bundle: Runt + Something/Anything?
Each record is limited to just 1000 units only • Numbered • 180g • Inserts 
This is a pre-order for two Todd Rundgren albums bundled together and pressed on limited edition coloured vinyl: 1970's Runt (single LP) and 1972's Something/Anything (2LP vinyl)
Runt is pressed on gold-coloured vinyl, while Something/Anything is a purple/solid red mix. Both are issued by Music On Vinyl and are limited to 1000 units worldwide.
Runt coloured vinyl
Side A

1. Broke Down And Busted
2. Believe In Me
3. We Gotta Get You A Woman
4. Who's That Man?
5. Once Burned
6. Devil's Bite

Side B

1. I'm In The Clique
2. There Are No Words
3. Baby, Let's Swing The Last Thing You Said Don't Tie My Hands
4. Birthday Carol
Something/Anything? coloured vinyl
Side A

1. I Saw The Light
2. It Wouldn't Have Made Any Difference
3. Wolfman Jack
4. Cold Morning Light
5. It Takes Two To Tango (This Is For The Girls)
6. Sweeter Memories

Side B

1. Intro
2. Breathless
3. The Night The Carousel Burned Down
4. Saving Grace
5. Marlene
6. Song Of The Viking
7. I Went To The Mirror
Side C
1. Black Maria
2. One More Day (No Word)
3. Couldn't I Just Tell You
4. Torch Song
5. Little Red Lights
Side D
1. Overture: Money / Messin' With The Kid
2. Dust In The Wind
3. Piss Aaron
4. Hello It's Me
5. Some Folks Is Even Whiter Than Me
6. You Left Me Sore
7. Slut