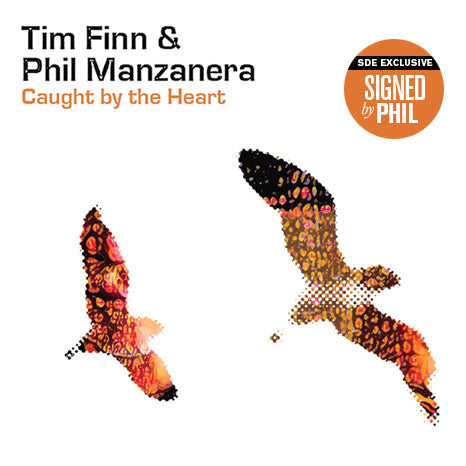 Tim Finn & Phil Manzanera / Caught by the Heart - CD edition - SDE exclusive signed by Phil Manzanera
£16.50
SDE Exclusive: Caught by the Heart CD signed by Phil Manzanera & comes with a bonus postcard
Following the acclaim of their debut E.P, Caught By The Heart, on 27th August two titans of British and New Zealand music will release their collaborative debut album of the same name, via Expression Records.
Caught By The Heart comprises a selection of 10 songs. The music covers a range of styles and genres: rock, pop, prog, Latin, reggae, classical, chamber orchestra type pieces. No genre was off limits. All drawn from Phil's extensive musical palette, inspired by his love of music regardless of where it comes from. This coupled with Tim's extraordinary, literate and well observed lyrics – as well as the phenomenal range of international guest musicians - has resulted in a sophisticated, shapeshifting album and a remarkable collaboration.  


Renowned Kiwi singer-songwriter Tim Finn (Split Enz, Crowded House) and legendary guitarist and producer Phil Manzanera (Roxy Music) have global lockdown to thank for bringing them back into musical contact again, 45 years after they first worked together.   During the last 12 months Tim and Phil, each working in their home studios some 12,000 thousand miles apart, have jointly written 23 new songs. The time and space of a pandemic-restricted life has led to an incredible period of artistic creativity.  There was no end goal in sight, just the sheer pleasure of two old friends making music together.  This artistic freedom has produced songs that live in the moment. They are a moving and inspiring testament to a great singer-songwriter and composer-guitarist coming together in cyber-space and seeing where the music takes them.
The starting point for Project Finn/Manzanera was when Tim emailed Phil, out of the blue, in April 2020, wondering if he had any tracks with a slow Latin groove. Tim had travelled to Cuba in the 80's, saw Los Van Van live in Havana, and had been perhaps responding to these memories when he reached out to Phil that Lockdown night in Auckland. Phil, with his Latin heritage and long history of working with Spanish-speaking artists, duly delivered and virtually overnight, Tim responded with fantastic words and singing.  Phil then sent more music, and back came more classic Tim Finn lyrics and singing, but by this point the songs were freely moving across genres.  Several of the album's songs are inspired by Phil's Latin heritage and Tim's love of and travels around the same region.
The album begins with Mambo! Salsa!...  a lively Latin-flavoured track featuring some freeform sax from Brazilian musician João Mello, bass from Cuban Frank Portuondo and piano tumbao from Matteo Saggese. The song is a joyous celebration of South American music, as well as South American and European cultural icons. Sang entirely in Spanish, the gorgeous Bajo Luz Distinta is a delicate Latin groove mid-tempo, strummed song featuring elegant, sparse electric guitar playing by Phil as well as the Cuban acoustic Tres by Frank Portuondo. Vamos Despacio features haunting vocals by Elliot Finn and a mournful  treated flugelhorn reminiscent of Miles Davis from winner of Jazz FM's 2020 'Act of The Year', Yazz Ahmed.
To the backing of a reggae-like groove, with short, sharp lead guitar lines from Phil, Cry of The Earth's ecological message was inspired by a visit Tim made to an old copper mine in Bougainville during the filming of Andrew Adamson's movie  Mr Pip. The barren, scarred mine landscape reminded Tim of the old Russian riddle, "they beat me, they burn me, they cut me, what am I?" This line about the earth makes an appearance in the song, a call to give the earth itself a voice as it warms and chokes. 
The title track Caught By The Heart – one of the album's standout moments - is an exquisite love song with an understated, yearning Tim Finn vocal, with bass from Yaron Stavi and strings by Corinna Hentchel, based in Stuttgart. This is followed by the haunting and atmospheric La Ruleta De La Fortuna, a piece of music and title by Phil. Upon researching the phrase 'Wheel of fortune' (the song's title in English), Tim found a poem by Roman philosopher Boethius on that very theme. Over sombre violin, the intro of Elliot Finn's reading of the poem gives the song an intensity, which to Tim feels like a movie playing in his head on the exasperation of youth and the resignation of age. Anna Phoebe and Guy Pratt both previously in Roxy give the song an extra charge.
Elsewhere on the album, All That's Human's sparse, spaced out guitar lines inspired Tim to create a dramatic, narrative lyric. A very moving and personal song, Tim wrote it for his daughter as a gift on her 18th birthday. Another song inspired by family is Galleon Of Stars. Charmed by Phil's piece of music, Tim began to whimsically imagine a constellation of stars floating like a galleon high above the Paris Lido. He then began thinking about his son and his friends and how they were all at that age when young men were sent off to fight wars for their elders and the dreadful waste of all that passion and romantic idealism.
La Musica Del Tiempo closes the album. It is based on a painting by Nicolas Poussin which has the title 'A Dance To The Music Of Time', featuring four women, which according to one interpretation, represent Poverty, Labour, Wealth and Pleasure dancing together, one after the other, as the stages of life unfold and we are caught in a cycle of endless becoming. Phil's melodic guitar in the outro is a beautiful way to end this wonderous collaboration. Many moons ago Tim asked Phil if he had any slow Latin grooves he could play with. Little did Tim know what a creative symbiosis would then occur…  
Caught By The Heart was produced by Phil Manzanera and Tim Finn and recorded by all the musicians in the UK,US,South Africa, Germany and New Zealand (full list of the musicians below) and mastered at Abbey Road.
Mambo! Salsa!...
The  Cry Of The Earth
Caught By The Heart
La Ruleta De La Fortuna
All That's Human
Malecón
Bajo Luz Distinta
Galleon Of Stars
Vamos Despacio
La Musica Del Tiempo