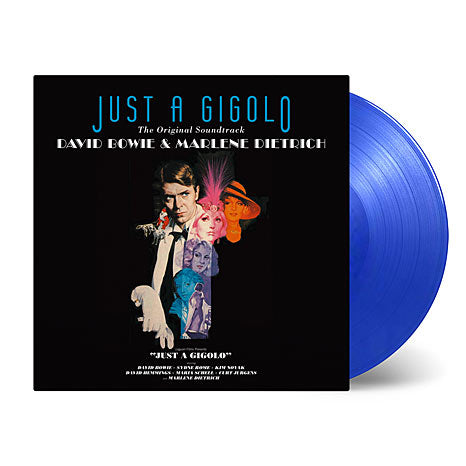 David Bowie & Marlene Dietrich / Just A Gigolo soundtrack on limited blue vinyl
£22.00
Just A Gigolo limited edition coloured vinyl
Limited to 3,000 units • 180g transparent blue vinyl • Features three versions of Bowie's 'Revolutionary Song' • Revised artwork
Music on Vinyl release the soundtrack to the 1978 film Just A Gigolo that stars Marlene Dietrich and David Bowie.
Capturing the atmosphere of the era, the soundtrack features exclusive contributions from various artists including Bowie,
who composed and recorded the composition "Revolutionary Song"
between scenes and provided most of the accompaniment.
There were three different versions produced for the film, two featuring Bowie
on vocals (parts 1 & 3). There are also three tracks from American vocal group The Manhattan Transfer, as well as music from The Pasadena Roof Orchestra, Sydne Rome, and The Gunther Fischer Quintet.
Just A Gigolo is available as a limited edition of 3000 individually
numbered copies on transparent blue vinyl. 
SIDE A
1. Marlene Dietrich - Just A Gigolo
2. The Pasadena Roof Orchestra - Salome
3. The Rebels - David Bowie's Revolutionary Song (Part I)
4. The Manhattan Transfer - Johnny
5. The Gunther Fischer Orchestra - The Streets Of Berlin
6. The Pasadena Roof Orchestra - Charmaine
7. Marlene Dietrich - Just A Gigolo (Piano)
8. Sydne Rome - Don't Let It Be Too Long
SIDE B
1. The Rebels - David Bowie's Revolutionary Song (Part II)
2. The Manhattan Transfer - Jealous Eyes
3. The Manhattan Transfer - I Kiss Your Hand, Madame
4. Marlene Dietrich - Just A Gigolo (Outtake)
5. The Gunther Fischer Quintet - Kissing Time
6. The Pasadena Roof Orchestra - Black Bottom
7. The Rebels - David Bowie's Revolutionary Song (Part III)
8. Marlene Dietrich - Farewell Gigolo