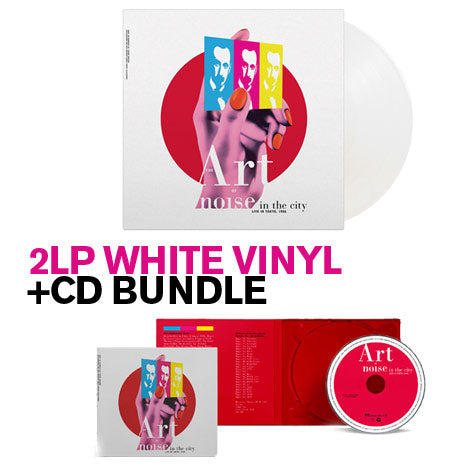 The Art of Noise / Noise in the City 2LP white vinyl + CD BUNDLE
£45.00
Vinyl limited to 1500 units • Numbered • Gatefold Sleeve • Newly mixed
2LP WHITE VINYL + CD BUNDLE
Noise in the City: Live in Tokyo, 1986 is previously unreleased complete Art of Noise concert, recorded in August 1986, at Tokyo's Nihon Seinenkan.

The album includes tracks such as 'Close to (The Edit)', 'Moments in Love', 'Beatbox', 'Peter Gunn', 'Legs', 'Paranoimia' and 'Eye Of A Needle'. On stage are Anne Dudley and JJ Jeczalik with Dave Bronze on bass, Simon Moreton on percussion, Paul Robinson on drums, and The Noisettes (Katie Humble, Pepe Lemer, and Linda Taylor) on vocals.
This album was made possible when Art of Noise members Dudley, JJ, and Gary Langan returned to Tokyo for live dates in 2017. They found that the concert was recorded for FM radio broadcast and Ian Peel (who writes the liner notes for this release), tracked down the original multi-track master tapes to a vault in London.
The recordings were newly mixed this year by Gary Langan and this new live album will be released on 6 August 2021. 
Intro - Peter Gunn
Close (to the Edit)
Paranoimia
Eye of a Needle
Legs
Moments in Love
Beatbox
Instruments of Darkness
Peter Gunn
From Tokyo to Hammersmith and Back
Opus III
In The Mood