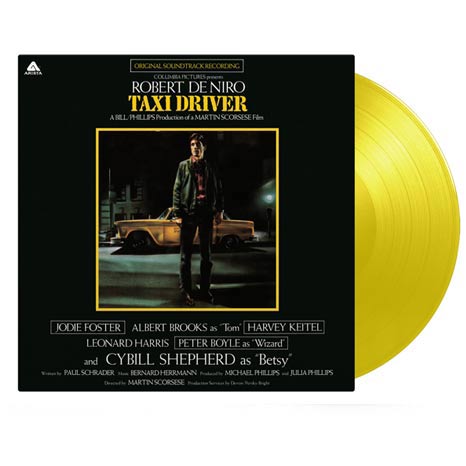 Bernard Hermann / Taxi Driver soundtrack on limited yellow vinyl
£20.00
Taxi Driver soundtrack - yellow vinyl
Bernard Hermann's beautiful and atmospheric score to Martin Scorcese's classic 1976 film Taxi Driver issued on limited edition yellow vinyl.

In the film (written by Paul Schrader) Robert De Niro memorably plays Travis Bickle, the frustrated Vietnam veteran, who takes a job as a taxi driver to battle his insomnia.
Taxi Driver would be the composer's last film soundtrack. The music (comprised primarily of a brass section mixing with a saxophone theme) effortlessly incorporates key elements of dialogue from the film ("all the animals come out at night" etc.)
Taxi Driver is available via Music On Vinyl as a limited edition of 2.500 numbered copies on yellow vinyl, with just 600 allocated for the UK.
SIDE A
1. Theme From Taxi Driver
2. I Work The Whole City
3. Betsy In A White Dress
4. The Days Do Not End
5. Reprise: Theme From Taxi Driver
SIDE B
1. Diary Of A Taxi Driver Voice - Robert De
Niro
2. Theme From Taxi Driver
3. The .44 Magnum Is A Monster
4. Sport And Iris
5. God's Lonely Man