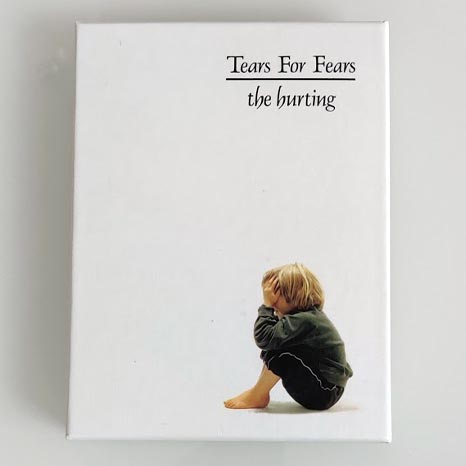 Tears For Fears / The Hurting super deluxe edition box set
£40.00
The Hurting 3CD+DVD super deluxe box
Originally issued in October 2013, The Hurting super deluxe edition is a reissue of Tears For Fears' 1983 debut album and features three CDs and a DVD.

This set offers the remastered album, a disc of B-sides and remixes, a CD of rare radio sessions and finally the In My Mind's Eye concert on DVD (NTSC, region-free).
It is packaged in a lift-off lid box and comes with two booklets: a reproduction of a tour programme and sleeve notes by Paul Sinclair, which include quotes from interviews with Roland and Curt, conducted at the time.

The Hurting - 3CD+DVD super deluxe edition


CD 1 - The Hurting
The Hurting
Mad World
Pale Shelter (You Don't Give Me Love)
Ideas As Opiates
Memories Fade
Suffer The Children
Watch Me Bleed
Change
The Prisoner
Start Of The Breakdown
CD 2 - B-sides and Remixes
Suffer The Children (7" Version)
Pale Shelter (You Don't Give Me Love)
The Prisoner (B-side)
Ideas As Opiates (B-side)
Change (New Version)
Suffer The Children (Remix)
Pale Shelter (You Don't Give Me Love) (Extended Version)
Mad World (World Remix)
Change (Extended Version)
Pale Shelter (Extended Version)
Suffer The Children (Instrumental)
Change (7" Edit)
Wino (B-Side)
The Conflict (B-Side)
We Are Broken (B-Side)
Suffer The Children (Promo CD Version)
CD 3 - Live Sessions
Peel Session 01.09.1982
1. Ideas As Opiates
2. Suffer The Children
3. The Prisoner
4. The Hurting
Jensen Session 20.10.1982
5. Memories Fade
6. The Prisoner
7. The Start Of The Breakdown
8. The Hurting
From 'The Way You Are' single
9. Start Of The Breakdown (Live)
10. Change (Live)
CD 4 - DVD - In My Mind's Eye - Live At Hammersmith Odeon
Start Of The Breakdown
Mothers Talk
Pale Shelter
The Working Hour
The Prisoner
Ideas As Opiates
Mad World
We Are Broken
Head Over Heels
Suffer The Children
The Hurting
Memories Fade
Change