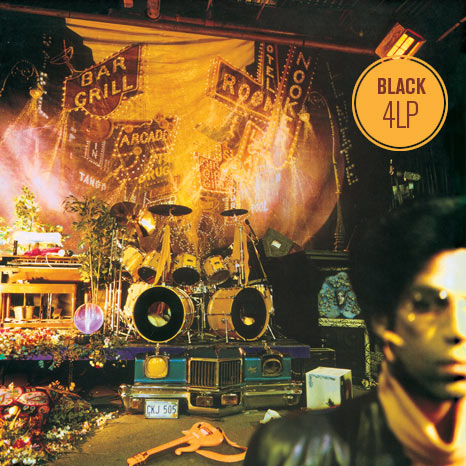 Prince / Sign O' The Times 4LP black vinyl edition
£65.00
Sign O' The Times 4LP vinyl edition
One-off manufacturing run • Classic album newly remastered and expanded
Prince's classic 1987 album Sign O' The Times is remastered for the first time and reissued as a 4LP vinyl set.
The album itself has been remastered by Prince's original mastering engineer Bernie Grundman and features the singles 'Sign O' The Times', 'If I Was Your Girlfriend' and 'U Got The Look'.
This edition includes two bonus LPs with a selection of 7" edits, 12-inch mixes, B-sides and more - all newly remastered.
Sign O' The Times is reissued on 25 September by Warner Music. 
LP 1         
1  Sign O' The Times
2  Play In The Sunshine
3  Housequake
4  The Ballad Of Dorothy Parker
5   It
6   Starfish And Coffee
7   Slow Love
8   Hot Thing
9   Forever In My Life
LP 2
1  U Got The Look
2  If I Was Your Girlfriend
3  Strange Relationship
4  I Could Never Take The Place Of Your Man
5  The Cross
6   It's Gonna Be A Beautiful Night
7   Adore 
LPs 3 & 4 : Single Mixes & Edits           
1   Sign O' The Times (7" single edit)
2   La, La, La, He, He, Hee (7" single edit)
3   La, La, La, He, He, Hee (Highly Explosive) (7" single edit)
4   If I Was Your Girlfriend (7" single edit)
5   Shockadelica ("If I Was Your Girlfriend" B-side)
6   Shockadelica (12" long version)
7   U Got the Look (Long Look) (12" edit)
8   Housequake (7" edit)
9   Housequake (7 Minutes MoQuake) (12" edit)
10  I Could Never Take The Place Of Your Man (Fade 7" edit)
11   Hot Thing (7" single edit)
12   Hot Thing (Extended Remix)
13   Hot Thing (Dub Version)