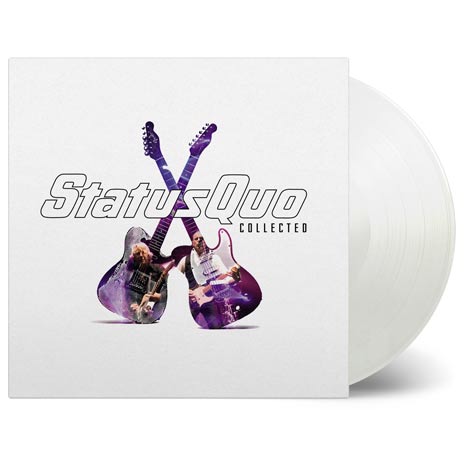 Status Quo / Collected limited edition 2LP white vinyl
£25.00
Status Quo Collected 2LP coloured vinyl
Gatefold • 2000 only •  white vinyl • Numbered • PVC sleeve • 4-page booklet
South London members Alan Lancaster (bass) and Francis Rossi (guitar) were the
original members and founders of Status Quo. Formerly known as The Spectres and later renamed to Traffic/ Traffic Jam they settled for Status Quo as their band name in 1967.
The following years they were joined by John Coghlan (drums), Roy Lynes (keyboard) and Rick Parfitt (guitar, died in 2016), and after several band members changes are still performing today in a revamped line-up.
In 1968 their first hit record "Pictures of Matchstick Men" was released and the debut album soon followed. The subsequent years Status Quo, or simply Quo, enjoyed a multitude of hits; "Mean Girl", "Down Down", "Rockin' All Over The World", "The Wanderer", "In The Army Now", "Roll Over Lay Down (Live)", all climbed the charts in different countries.
During the years Status Quo developed their own signature style of heavy rhythms, a few guitar chords, straightforward, accessible lyrics and collected a huge and loyal fan base. In 2006 NME magazine named Status Quo "The Most Successful UK band" as they achieved more chart hits than any other British band.
The 2LP Collected compilation is an era spanning selection of Status Quo includes the hits, 4 original mono recordings "Pictures Of Matchstick Men", "Ice In The Sun", "I (Who Have Nothing)" by The Spectres, "Almost But Not Quite There" by Traffic Jam.
Status Quo – Collected is available as a limited pressing of 2000 individually numbered copies on white vinyl and is released by Music On Vinyl.
---
SIDE A
1. Pictures Of Matchstick Men*
2. Ice In The Sun*
3. Are You Growing Tired Of My Love
4. Mean Girl
5. Caroline
6. Roll Over Lay Down (Live)
SIDE B
1. Down Down
2. Rain
3. Rockin' All Over The World
4. Hold You Back
5. Again And Again
6. Whatever You Want
SIDE C
1. Living On An Island
2. What You're Proposing
3. Rock 'N' Roll
4. Something 'Bout You Baby I Like
5. Ol' Rag Blues
6. The Wanderer
SIDE D
1. Rollin' Home
2. In The Army Now
3. The Oriental
4. Medley: The Anniversary Waltz – Part 1 (1990)
5. The Spectres – I (Who Have Nothing)*
6. Traffic Jam – Almost But Not Quite There*
*Original mono recording