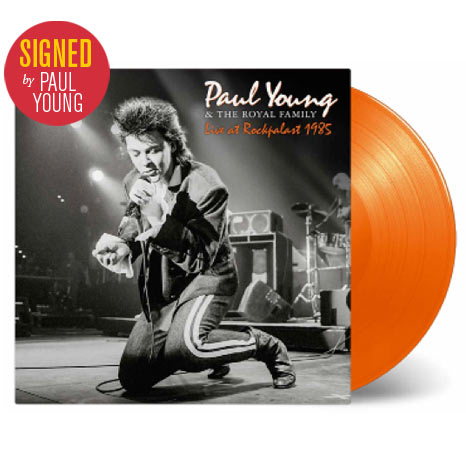 Paul Young & The Royal Family / Live at Rockpalast 1985 2LP coloured vinyl
£30.00
Live at Rockpalast 1985 2LP coloured vinyl 
• Gatefold • Coloured vinyl • Insert
Rockpalast is a music TV show from Germany that played host to many classic rock/pop acts in the 1970s and 1980s and in March 1985 Paul Young was one of them.

The concert was recorded on the week that Paul's second album The Secret of Association was released and features a fantastic setlist that includes literally every hit single from the that album and 1983's No Parlez, as well as choice album cuts like 'Love Will Tear Us Apart', 'Oh Women' and 'Bite The Hand That Feeds'. Some of these live performances feature energetic extended versions of the songs, such as the ten minute 'Oh Women' and an eight minute 'Come Back And Stay'.
The band is Paul with Ian Kewley (Keyboard), Mark Pinder (Drums), Pino Palladino (Bass), Matt Irwing (Keyboard) and Johnny Turnbull (Guitar). The trio of Jimmy Chambers, George Chandler and Tony Jackson provide backing vocals.
The 80-minute show sounds fantastic and is pressed across two orange-coloured vinyl records housed in a gatefold presentation, with insert. The SDE shop is proud to once again offer fans an exclusive opportunity to acquire a copy of this album with the front cover signed by Paul Young. The orange vinyl is limited to 1000 units and the signed ones will be even rarer!
Side A
Tomb Of Memories 4.22
Love Will Tear Us Apart 3.51
Love Of The Common People 5.27
Bite The Hand that Feeds 4.24
Side B
Every Time You Go Away 6.36
I'm Gonna Tear Your Playhouse Down 5.23
Everything Must Change 6.49
Side C
Oh Women 10.11
Come Back And Stay 8.17
Cupid 2.37
Side D
Sex 9.57
Broken Man 4.50
Wherever I Lay My Hat (That's My Home) 7.06