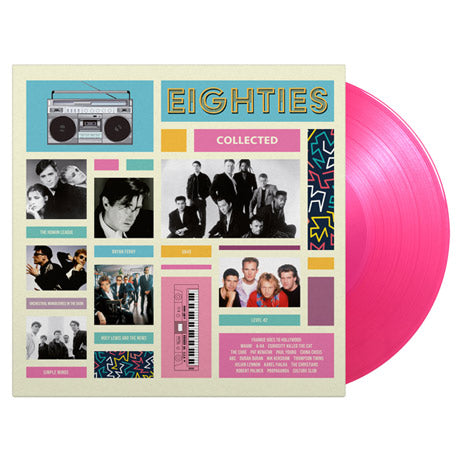 Eighties Collected / Various Artists 2LP limited coloured vinyl
£30.00
Eighties Collected - Limited Edition 2LP coloured vinyl
The Decades Collected compilations are part of the new Collected compilation series, which is a collaboration between Universal Music and Music On Vinyl. The compilations bring together the biggest names of each decade, combined with forgotten hits and less discovered gems, giving the listener an experience of listening to their favourite tunes while uncovering new musical grounds at the same time.
Features: 
180 GRAM AUDIOPHILE VINYL
INCLUDES INSERT WITH CREDITS
HIGH QUALITY PVC PROTECTIVE SLEEVE
THE NEW COLLECTED COMPILATION SERIES WITH SONGS AND HITS FROM THE DECADES 60'S TO THE 10'S
FEATURING WHAM!, DURAN DURAN, A-HA, THE CURE, CULTURE CLUB, ROBERT PALMER, FRANKIE GOES TO HOLLYWOOD, SIMPLE MINDS, THE HUMAN LEAGUE, UB40
 LIMITED EDITION OF 2000 INDIVIDUALLY NUMBERED COPIES ON TRANSPARENT MAGENTA COLOURED VINYL
Various Artists - Eighties Collected features original hits like Wham! "Wake Me Up Before You Go-Go", Duran Duran "Hungry Like A Wolf", A-HA "The Sun Always Shines On TV", The Cure "In Between Days", Pat Benatar "Love Is A Batteflield", Culture Club "The War Song", Robert Palmer "Pride", Frankie Goes To Hollywood "Relax", Simple Minds "Sanctify Yourself", ABC "When Smokey Sings", The Human League "(Keep Feeling) Fascination", UB40 "If It Happens Again" and many more.
This compilation is available as a limited edition of 2000 individually numbered copies on transparent magenta coloured vinyl and contains an insert with credits.
Also available:
Various Artists - Sixties Collected 
Various Artists - Seventies Collected
SIDE A
Wham! - Wake Me Up Before You Go-Go

Huey Lewis And The News - Stuck With You

Bryan Ferry - Slave To Love

Frankie Goes To Hollywood - Relax

Pat Benatar - Love Is A Battlefield

China Crisis - Wishful Thinking
SIDE B
Duran Duran - Hungry Like The Wolf

Orchestral Manoeuvres In The Dark - (Forever) Live And Die

Thompson Twins - Hold Me Now

Nik Kershaw - I Won't Let The Sun Go Down On Me

Level 42 - Take A Look

A-Ha - The Sun Always Shines On TV
SIDE C       

Simple Minds - Sanctify Yourself

Culture Club - The War Song

Propaganda - P: Machinery

Robert Palmer - Pride

Paul Young - Tomb Of Memories

The Christians - Forgotten Town
SIDE D
The Cure - In Between Days

Julian Lennon - Too Late For Goodbyes

ABC - When Smokey Sings

The Human League - (Keep Feeling) Fascination

UB40 - If It Happens Again

Karel Fialka - Hey Matthew

Curiosity Killed The Cat - Down To Earth