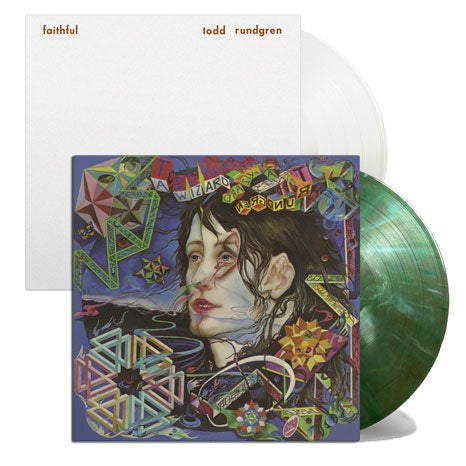 BUNDLE: Todd Rundgren / A Wizard, A True Star & Faithful coloured vinyl
£43.00
Bundle: A Wizard, A True Star green vinyl & Faithful white vinyl
1000 units only for each coloured vinyl record
This bundle offers Todd Rundgren's masterpiece A Wizard, A True Star (from 1973) with his 1976 album Faithful. 
Both are coloured vinyl limited editions of 1000 units. A Wizard, A True Star is pressed on green vinyl and Faithful on white vinyl. These are issued by Music On Vinyl.
Note: Image on this listing is for illustration only. Actual colours may vary.
A Wizard, A True Star green vinyl LP
SIDE A

1. International Feel 2. Never Never Land 3. Tic Tic Tic It Wears Off 4. You Need Your Head 5. Rock And Roll Pussy 6. Dogfight Giggle 7. You Don't Have To Camp Around 8. Flamingo 2 9. Zen Archer 10. Just Another Onionhead; Da Da Dali 11. When The Shit Hits The Fan; Sunset Blvd. 12. Le Feel Internacionale

Side B

1. Sometimes I Don't Know What To Feel 2. Does Anybody Love You? 3. Medley: I'm So Proud Ooh Baby Baby La La Means I Love You Cool Jerk 4. Hungry For Love 5. I Don't Want To Tie You Down 6. Is It My Name? 7. Just One Victory
Faithful white vinyl LP
SIDE A

1. Happenings Ten Years Time Ago 2. Good Vibrations 3. Rain 4. Most Likely You Go Your Way And I'll Go Mine 5. If Six Was Nine 6. Strawberry Fields Forever 

Side B

1. Black And White 2. Love Of The Common Man 3. When I Pray 4. Cliché 5. The Verb "To Love" 6. Boogies (Hamburger Hell)