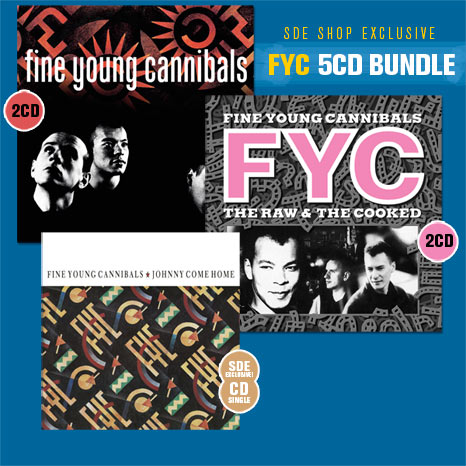 Fine Young Cannibals / 5CD deluxe bundle with FREE SDE-exclusive CD single
£30.00
The Fine Young Cannibals two albums, 1985's self-titled debut and 1989's US-conquering 'The Raw & The Cooked' are both remastered and expanded to 2CD deluxe editions by London Records.
This BUNDLE includes both 2CD deluxe editions and a FREE SDE-exclusive limited edition CD single of 'Johnny Come Home', while stocks last.
5CD bundle includes:

Fine Young Cannibals 2CD deluxe
The Raw & The Cooked 2CD deluxe
Johnny Come Home SDE-exclusive CD single!
These will be released on 18 December 2020


Johnny Come Home SDE-exclusive CD single
01 Johnny Come Home 3.30
02 Johnny Come Home (Extended Mix) 5.40
03 Johnny Come Home (That Other Mix) 5.08*
04 Johnny Come Home (Live) 
*Original 1985 second 12" remix not on the 2CD deluxe
Fine Young Cannibals 2CD deluxe

CD1

01 Johnny Come Home
02 Couldn't Care More
03 Don't Ask Me To Choose
04 Funny How Love Is
05 Suspicious Minds
06 Blue
07 Move To Work
08 On A Promise
09 Time Isn't Kind
10 Like A Stranger
11 Johnny Come Home (Extended Mix)
12 Suspicious Minds (Extended Mix)
13 Blue (Dance Version)
14 Wade In The Water ("Blue" B-Side)
15 Love For Sale ("Johnny Come Home" B-Side)
16 Motherless Child ("Funny How Love Is" B-Side)
17 Prick Up Your Ears
18 Couldn't Care More (Annes Mix)
19 Blue (Slow Version)
20 Suspicious Minds (Caught In A Dub)
21 Johnny Come Home (Mousse T Cocktail Mix)

CD2

01 Johnny Come Home (Derrick Carter Remix)
02 Suspicious Minds (US Remix)
03 Funny How Love Is (Radio Mix)
04 Johnny Come Home (Mark Moore 12" Remix)
05 Blue (Live at Town & Country Club BBC Session)
06 Johnny Come Home (Live)
07 Suspicious Minds (Suspicious Mix)
08 Johnny Come Home (John Peel BBC Session)
09 Blue (John Peel BBC Session)
10 Time Isn't Kind (John Peel BBC Session)
11 Good Times And Bad (Extended Mix)
12 Suspicious Minds (Shakedown Mix)
13 Couldn't Care More (Janice Long BBC Session)
14 Move To Work (Janice Long BBC Session)
15 Don´t Ask Me To Choose (Janice Long BBC Session)
16 Funny How Love (Janice Long BBC Session)
17 Blue (Demo Long Version)
18 Johnny Come Home Mousse T (Extended Mix)




The Raw & The Cooked 2CD deluxe

CD1

01 She Drives Me Crazy
02 Good Thing
03 I'm Not The Man I Used To Be
04 I'm Not Satisfied
05 Tell Me What
06 Don't Look Back
07 It's OK (It's Alright)
08 Don't Let It Get You Down
09 As Hard As It Is
10 Ever Fallen In Love?
11 You Never Know ("Don't Look Back" B-Side)
12 Social Security ("Good Thing" B-Side)
13 She Me Crazy (David Z 12" Remix)
14 Good Thing (Nothing Like The Single Mix)
15 Ever Fallen In Love (Extended Version)
16 I'm Not The Man I Used To Be (12" Version)
17 Don't Look Back (12" Version)
18 It's Ok (It's Alright) (Ploeg Club Mix)

CD2

01 She Drives Me Crazy (Dimitri From Paris Remix)
02 I'm Not Satisfied (New York Singing Mix II)
03 She Drives Me Crazy (Seth Troxler 'Out Of Time' Remix)
04 Ever Fallen In Love? (The Rare Groove Bootleg)
05 Good Thing (Prince Paul Vocal Percussapella)
06 She Drives Me Crazy (Percusapella)
07 I'm Not The Man I Used To Be (Demo Version)
08 Don't Look Back (Youth Remix)
09 As Hard As It Is (Demo Version)
10 Tell Me What (Demo Version)
11 Hold Me (Demo)
12 I'm Not Satisfied (Demo Version)
13 Ever Fallen In Love? (Club Senseless Arthur Baker Remix)
14 Race Track Instrumental