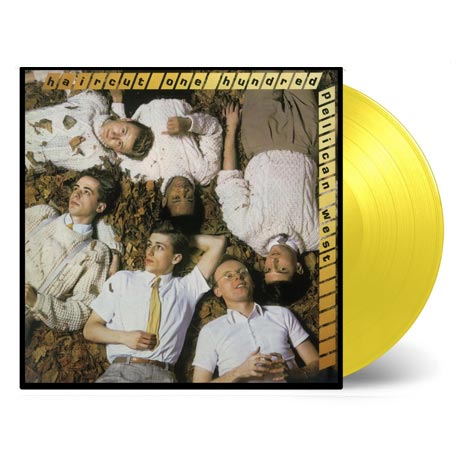 Haircut One Hundred / Pelican West Plus 2LP coloured vinyl
£30.00
Haircut One Hundred / Pelican West Plus 2LP yellow vinyl
1000 units only (350 for the UK) • Coloured vinyl • 5 bonus tracks
This is a limited 2LP expanded coloured vinyl edition of Haircut One Hundred's debut album Pelican West from Music On Vinyl.

The 1982 album peaked at number two in the UK charts (and impressively breach the top 40 in America) and featured three top ten hits: 'Favourite Shirts (Boy Meets Girl),' 'Love Plus One' and 'Fantastic Day'.
This new vinyl edition is available on double 180g yellow vinyl and is limited to 1000 copies worldwide, with only 350 earmarked for the UK market. It adds five bonus tracks which are found on the second vinyl LP:
Nobody's Fool (12" Version)'
'Ski Club'
'October Is Orange (Day 1 & 2)'
'Boat Party'
'Favourite Shirts (Boy Meets Girl) (12" Version)'
The vinyl package is individually numbered and comes with a four-page booklet. It will be issued on 13 September 2019 by Music On Vinyl.
Note: Images of vinyl colours are illustrative only. Actual vinyl colours may vary.  
Side A
1. Favourite Shirts (Boy Meets Girl)
2. Love Plus One
3. Lemon Fi Rebrigade
4. Marine Boy
5. Milk Fi Lm
6. Kingsize (You're My Litte Steam Whistle)
Side B
1. Fantastic Day
2. Baked Bean
3. Snow Girl
4. Love's Got Me In Triangles
5. Surprise Me Again
6. Calling Captain Autumn
Side C
1. Boat Party
2. Ski Club
3. Nobody's Fool (12" Version)
Side D
1. October Is Orange (Day 1 & 2)
2. Favourite Shirts (Boy Meets Girl) (12" Version)