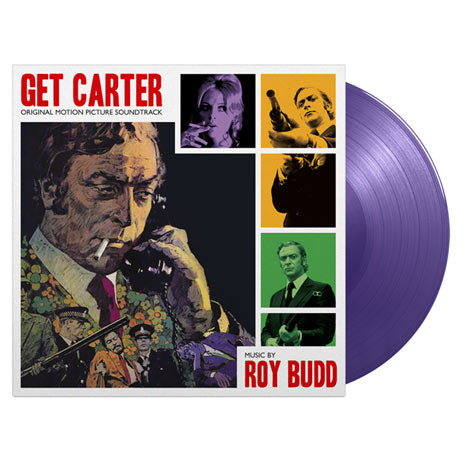 Get Carter soundtrack on limited purple vinyl
£30.00
Get Carter soundtrack - Music by Roy Budd

180g purple vinyl • Numbered • Limited to 1000 copies • Gatefold sleeve 
Get Carter, the classic 1971 British gangster movie, starred Michael Caine in a career-defining role as a London gangster out for revenge in the grim North.
The film was directed by Mike Hodges and set in the derelict urban scenery of Newcastle. It could easily have come with a period glam rock soundtrack, but it sounded so much better with cool jazz. The album features classy, cool and slightly edgy jazz that evokes the gritty imagery of the film. Get Carter was voted #16 in the "100 Favourite British Films Of The 20th Century' by the British Film Institute and #1 in the Total Film 'Greatest British Films Of All Time'.

The iconic soundtrack, recorded on a tiny budget, was written by the jazz prodigy Roy Budd. Performed by Budd, in interplay with Jeff Clyne and Chris Karan (both of the Dudley Moore Trio), the score continues to inspire musicians worldwide. The trio carry the emotional weight of the soundtrack which has led to a number of covers and tributes.
The soundtrack comes with snippets of dialogue including that classic and sample-inviting line by Caine, "You're a big man but you're in bad shape, for me it's a full-time job. Now behave yourself". 




SIDE A
1. Get Carter Intro
2. Dialogue "Is There A Mr. Carter In The Room?"
3. Main Theme - Carter Takes A Train
4. Dialogue "Do You Know A Man Called Albert Swift?"
5. Looking For Someone
6. Dialogue - The Race Track
7. Something On My Mind
8. Dialogue "Who Killed Frank?"
9. Getting Nowhere In A Hurry
10. Dialogue "Tell Me About The Girl"
11. The Girl In The Car
12. Dialogue "I Fancy You"
13. Love Is A Four Letter Word
14. Dialogue "You're Lucky. They Kill As Well"
15. Livin' Should Be This Way

SIDE B
1. Dialogue "All It Takes Is One Call To The Police"
2. Manhunt
3. Dialogue "Drink Up: Eric"
4. Goodbye Eric!
5. Dialogue "I Want You To Listen Very Carefully"
6. Hallucinations
7. Dialogue "You're A Big Man But You're In Bad Shape"
8. Plaything
9. Dialogue "Stay Away From The Car Or I'll Blow You Apart"
10. Goodbye Carter!
11. Dialogue "Talk Or I'll Kill You"
12. Hallucinations Instrumental
13. Getting Nowhere In A Hurry Instrumental