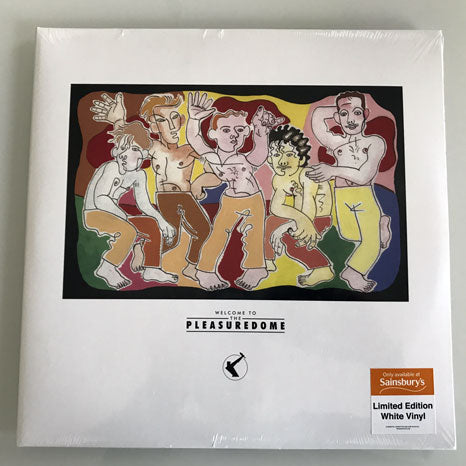 Frankie Goes to Hollywood / Welcome to the Pleasuredome - Limited White Vinyl
£30.00
LIMITED TO ONE PER CUSTOMER A limited 2016 2LP white vinyl pressing of Frankie Goes to Hollywood's hugely successful debut album, Welcome to the Pleasuredome.  
Originally released in 1984 it topped the UK album chart and includes the hit singles Relax, Two Tribes, The Power of Love and Welcome to the Pleasuredome.
These were originally available in Sainsbury's in the UK and FNAC in France for a short period. New and sealed.
Track listing:
Side 1:  "F - Pray Frankie Pray"
Well...
The World is My Oyster
Snatch of Fury (Stay)
Welcome to the Pleasuredome
Side 2:  "G - Say Frankie Say"
Relax (Come Fighting)
War (..and Hide)
Two Tribes (For the Victims of Ravishment)
(Tag) - unlisted track
Side 3:  "T - Stay Frankie Stay"
Ferry (Go)
Born to Run
San Jose (The Way)
Wish (The Lads Were Here)
The Ballad of 32
Side 4:  "H - Play Frankie Play"
Krisco Kisses
Black Night White Light
The Only Star in Heaven
The Power of Love
Bang