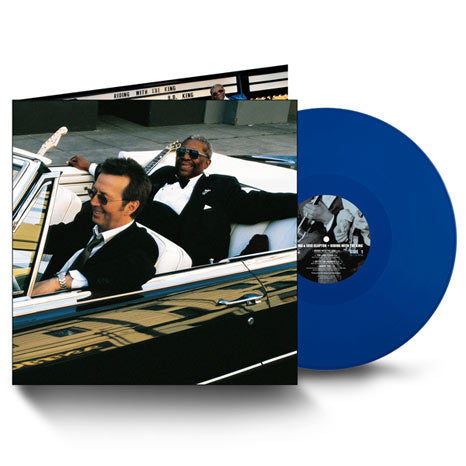 Eric Clapton & B.B. King / Riding With The King 20th anniversary 2LP blue vinyl
£32.00
Riding With The King limited edition 2LP blue vinyl
Remastered • Bonus tracks • Coloured vinyl
Eric Clapton & B.B. King's album from 2000, Riding With The King, is reissued next month to mark its 20th anniversary.

The 12-track album of all-new studio recordings of blues classics and contemporary songs has been remastered from the original tapes (by Bob Ludwig) and is expanded, featuring two unreleased bonus tracks (recorded during the original sessions). Original co-producer Simon Climie has produced and mixed these two additional numbers especially for this reissue.
The album features contributions from musicians such as Andy Fairweather Low, Steve Gadd, Nathan East, Susannah and Wendy Melvoin, and Jim Keltner. Arif Martin contributed string arrangements and orchestration to two tracks.
This is the limited 2LP blue vinyl edition of Riding With The King which is released on 26 June 2020.
1.      Riding with the King
2.      Ten Long Years
3.      Key To The Highway
4.      Marry You
5.      Three O'Clock Blues
6.      Help The Poor
7.      I Wanna Be
8.      Worried Life Blues
9.      Days of Old
10.   When My Heart Beats Like A Hammer
11.   Hold On I'm Coming
12.   Come Rain Or Come Shine 
20th Anniversary Bonus Tracks:
13.   Rollin' and Tumblin'
14.   Let Me Love You Baby