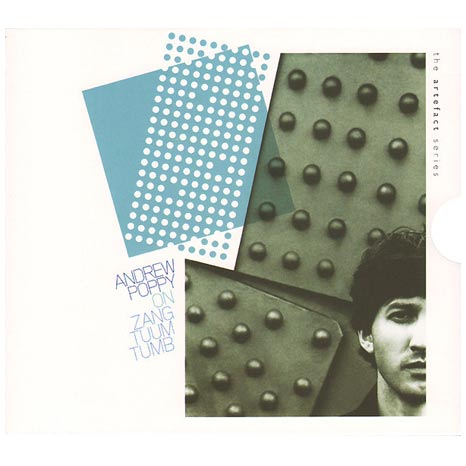 Andrew Poppy / On Zang Tuum Tumb / 3 CD Box Set
£12.00
On Zang Tuum Tumb
Andrew Poppy
on Zang Tumb Tuum
is a 3 CD box set compiling classic recordings, unreleased and rare material commemorating the 20th anniversary of Poppy's period with the label. One of the UK's leading contemporary composers, Poppy arrived at ZTT in 1984 having studied under John Cage and founded the avant-garde collective The Lost Jockey (Crepsecule/Operation Twilight).
He went on to successfully straddle two worlds: orchestral compositions on one hand; left field pop collaborations (Psychic TV, Coil, Nitzer Ebb) on the other.
Andrew Poppy on Zang Tumb Tuum compiles all of the key tracks from both Poppy's ZTT albumsThe Beating of Wings (1985) and Alphabed (1987). Rare remixes, alternate takes and B-sides are also included, all of which are available for the first time on CD. A completely unreleased third album, which has been locked in the ZTT vaults since 1988, is on a third disc. A 'mini book' is also included, containing a biography, new interviews with the composer, bibliography and discography.
Highlights of the box set include Cadenza, a 14-minute recording of Poppy's breakthrough composition; The Impossible Net, which places him squarely at the recent convergence between classical and electronics; Kink Kong Adagio,industrial downtempo from before the genre was so named; Inside The Wolf, Poppy's theme for Channel 4's 'The Tube', and The Passage, a completely unreleased and mesmerising suite from Poppy's very last session for ZTT.
This is the definitive view of Andrew Poppy as a progenitor of avant-garde composition, minimalism and early electronica.
Disc 1 - The Beating Of Wings
The Object Is A Hungry Wolf 12.25
32 Frames For Amplified Orchestra 8.35
Listening In 13.02
Cadenza For Piano And Electric Piano 14.31
Inside The Wolf 3.15
The Impossible Net 16.27
Listening In (Re-Modelled) 03.52
Disc 2 - Alphabed (A Mystery Dance)
The Amusement (7 Inch Edit) 3.15
45 Is 20.36
Goodbye Mr G 14.30
The Amusement (12 Inch) 7.34
Kink Konk Presto 4.50
East Fragment 6.02
Kink Konk Adagio 6.05
Disc 3 - Under the Sun
The Sequence 8.36
The Passage (Parts 1, 2, 3) 26.05
Sometimes It Rains 3.40