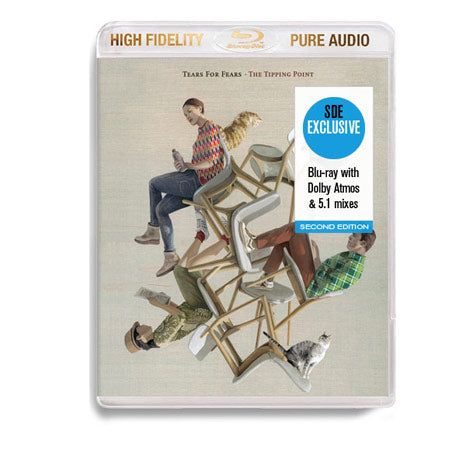 EXCLUSIVE: Tears For Fears / The Tipping Point blu-ray audio *second edition*
£23.00
*If you are ordering from the EU please be aware that that goods may be subject to import VAT when they arrive from the UK*
Tears For Fears / The Tipping Point blu-ray audio with Steven Wilson surround sound mixes
STRICTLY ONE COPY PER CUSTOMER. ORDERS WILL MULTIPLE COPIES WILL BE CANCELLED!
Tears For Fears' new album, The Tipping Point, is available exclusively via the SDE shop on the blu-ray audio format* with both a Dolby Atmos mix and a 5.1 surround mix, both by musician and remixer extraordinaire Steven Wilson. This blu-ray is the only way to get these spatial audio mixes on a physical product.
The album is truly stunning and Steven Wilson's Dolby Atmos / 5.1 mixes take it to the next level. 
This is the only way to enjoy these spatial audio mixes of The Tipping Point via a physical product and the DTS HD 5.1 mix of the album is totally exclusive.
This second edition is identical to the first pressing except for the words 'Second Edition' printed on the rear cover and the disc itself.
The Tipping Point blu-ray is released via Concord Records in collaboration with SDE on 17 June 2022. This is a region-free blu-ray.
TECHNICAL NOTES: This blu-ray audio requires a blu-ray player. Decoding the Dolby Atmos mix requires a Dolby Atmos-certified soundbar or a Dolby Atmos-compatible AV Receiver/Amp. The Dolby Atmos mix will 'fold down' to 5.1 or stereo if a Dolby Atmos decoder is not detected. The DTS HD 5.1 mix should work with virtually all home cinema set-ups.
The Tipping Point Dolby Atmos Mix
No Small Thing
Tipping Point
Long, Long, Long Time
Break The Man
My Demons
Rivers of Mercy
Please Be Happy
Master Plan
End of Night
Stay
The Tipping Point DTS-HD Master Audio 5. 1
No Small Thing
Tipping Point
Long, Long, Long Time
Break The Man
My Demons
Rivers of Mercy
Please Be Happy
Master Plan
End of Night
Stay