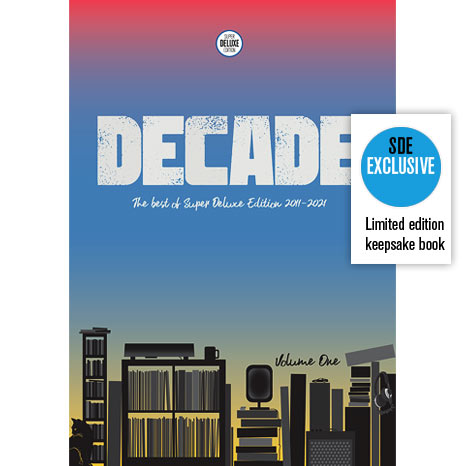 DECADE: The Best of SDE 2011-2021 / 10th anniversary book - deluxe edition / FREE shipping
£30.00
DECADE: The Best of Super Deluxe Edition 2011 - 2021
FREE UK & International shipping! 

128-page book • Signed by SDE editor, Paul Sinclair • 1000 numbered copies

Music website SuperDeluxeEditon.com (SDE) celebrates TEN YEARS online with the publication of DECADE, a 128-page softcover book which offers content highlights from between 2011-2021 with superb in-depth interviews with artists, producers, reissue curators and more, along with selected features and other articles.
The book includes new annotations from SDE editor Paul Sinclair, giving the behind-the-scenes commentary on all the interviews, newly commissioned illustrations, unseen photos and more. 

This very special publication is the first of three planned volumes that together will provide a complete physical memento of SDE in the last 10 years.
These will ship in a protective inner bag and placed in an extra-stiff Colompac card mailer.
Praise for DECADE from SDE readers! 
 "A terrific read… highly recommended"

"Looks fantastic and the attention to detail throughout is impressive"

"An excellent book."
"Really chuffed with my copy… Great articles and I even read your pieces on artists I don't care for. This really is 'holding the music in your hands'"
"A very classy publication and a right riveting read"

"Absolutely bloody brilliant, ten times as good as the what it sounded like"
About Paul Sinclair
Paul is founder and editor of music site SuperDeluxeEdition.com which he has edited since 2011. He has also written sleeve notes and/or compiled or curated many many music reissues including Tears For Fears, Paul Young, Sam Brown, Thompson Twins, It's Immaterial and more. He lives in London.