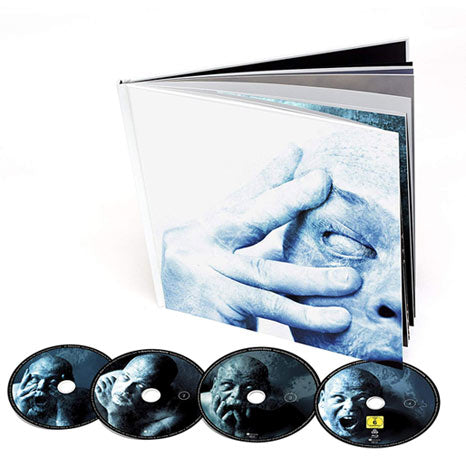 Porcupine Tree / In Absentia 4-disc deluxe edition
£59.99
In Absentia 3CD+blu-ray deluxe bookset
Porcupine Tree's 2002 album In Absentia reissued as a 3CD+blu-ray deluxe edition.
The set features three CDs, with the first offering Steven Wilson's 2017 remaster of the album, the second containing additional finished studio recordings the band made during the period (such as 'Collapse Intro', 'Drown With Me', 'Chloroform', and 'Meantime') and the third comprising over 70 minutes of demos recorded in Wilson's home studio.
The blu-ray is the fourth and final disc. It features the 2003 5.1 surround sound mix (by Elliot Scheiner) as well as the audio from CD 2 in hi-res. This isn't a blu-ray audio since it also comes with a new, almost two-hour documentary, directed by Steven Wilson's longtime visual collaborator Lasse Hoile, which chronicles the making of the album with interviews and archive footage.
The deluxe set is presented as a 100-page hardcover book which features photography by Lasse Hoile, Carl Glover, Richard Barbieri and John Blackford along with sleeve notes and track-by-track commentary by Stephen Humphries, artwork drafts, and handwritten notes and lyrics.
In Absentia deluxe will be released on 21 February 2020 via Kscope.
CD 1

1. Blackest Eyes (2017 Remaster) [04:24]
2. Trains (2017 Remaster) [05:55]
3. Lips Of Ashes (2017 Remaster) [04:39]
4. The Sound Of Muzak (2017 Remaster) [04:58]
5. Gravity Eyelids (2017 Remaster) [07:56]
6. Wedding Nails (2017 Remaster) [06:33]
7. Prodigal (2017 Remaster) [05:33]
8. .3 (2017 Remaster) [05:25]
9. The Creator Has A Mastertape (2017 Remaster) [05:14]
10. Heartattack In A Layby (2017 Remaster) [04:15]
11. Strip The Soul (2017 Remaster) [07:20]
12. Collapse The Light Into Earth (2017 Remaster) [05:49]

CD 2

1. Collapse Intro [01:45]
2. Drown With Me [05:21]
3. Orchidia [03:27]
4. Chloroform [07:14]
5. Futile [06:06]
6. Meantime [03:17]
7. Blackest Eyes (radio edit) [03:38]
8. Trains (radio edit) [03:52]
9. Strip The Soul (video edit) [03:35]

CD 3

1. Drown With Me (demo) [05:06]
2. Trains (demo) [06:05]
3. Imogen Slaughter (demo) [02:38]
4. Watching You Sleep (demo) [03:44]
5. The Creator Has A Mastertape (demo) [06:07]
6. Heartattack In A Layby (demo) [05:51]
7. Strip The Soul (demo) [15:19]
8. The Sound Of Muzak (demo) [05:32]
9. Gravity Eyelids (demo) [07:15]
10. Enough (demo) [03:45]
11. Wedding Nails (demo) [06:26]
12. Blackest Eyes (demo) [04:34]

Blu-ray

1. The Making Of In Absentia (documentary film) [1.49:45]
2. Blackest Eyes (5.1 mix) [04:26]
3. Trains (5.1 mix) [05:57]
4. Lips Of Ashes (5.1 mix) [04:40]
5. The Sound Of Muzak (5.1 mix) [04:59]
6. Gravity Eyelids (5.1 mix) [07:56]
7. Wedding Nails (5.1 mix) [06:33]
8. Prodigal (5.1 mix) [05:33]
9. .3 (5.1 mix) [05:26]
10. The Creator Has A Mastertape (5.1 mix) [05:21]
11. Heartattack In A Layby (5.1 mix) [04:15]
12. Strip The Soul (5.1 mix) [07:22]
13. Collapse The Light Into Earth (5.1 mix) [05:52]
14. Drown With Me (5.1 mix) [05:21]
15. Chloroform (5.1 mix) [07:14]
16. Futile (5.1 mix) [06:03]