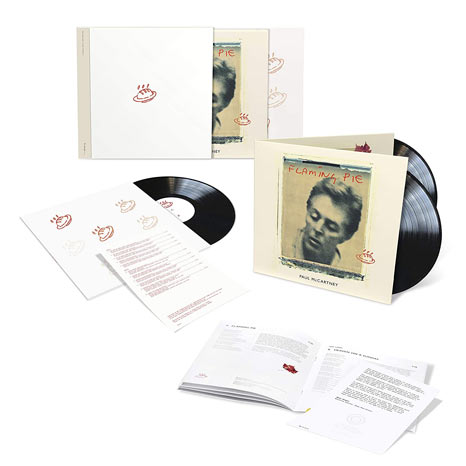 Paul McCartney / Flaming Pie limited 3LP vinyl reissue
£35.00 £60.00
Flaming Pie limited 3LP deluxe vinyl edition
Paul McCartney's 1997 album is remastered and reissued as a 3LP vinyl edition
This album features the singles Young Boy, The World Tonight and Beautiful Night.
LP 1 and LP2 features the 2020 remaster of the album half-speed mastered by Miles Showell at Abbey Road Studios. This is a gatefold vinyl presentation and comes with a lyric book. LP 3 offers a selection of demos and home recordings in a separate sleeve and all both are housed in a bespoke outer wallet.
This will be released on 31 July via UMC/Virgin.
LP 1
The Song We Were Singing
The World Tonight
If You Wanna
Somedays
Young Boy
Calico Skies
Flaming Pie

LP 2
Heaven On A Sunday
Used To Be Bad
Souvenir
Little Willow
Really Love You
Beautiful Night
Great Day

LP3 - Demos & Home Recordings

The Song We Were Singing [Demo]
The World Tonight [Demo]
If You Wanna [Demo]
Somedays [Demo]
Young Boy [Demo]
Calico Skies [Home Recording]
Flaming Pie [Demo]
Souvenir [Demo]
Little Willow [Demo]
Beautiful Night [Studio Demo]
Great Day [Home Recording]