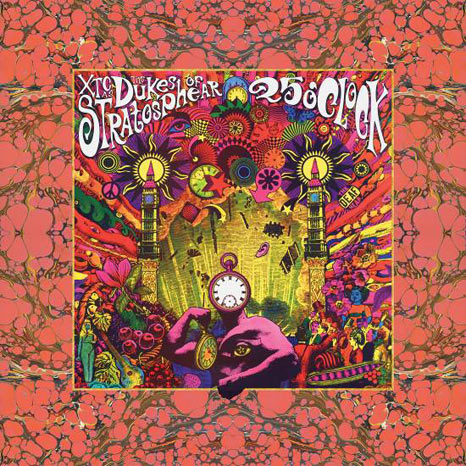 XTC as... The Dukes of Stratospher / 25 O'Clock 200g vinyl LP
£20.00
25 O'Clock 200g remastered vinyl LP
Newly cut and pressed on 200g vinyl • Issued by Andy Patridge's APE label • 
Sir John Johns  ~ the Red Curtain  ~ Lord Cornelius Plum ~ E.I.E.I. Owen
Produced by John Leckie (Swami Anand Nagara) and The Dukes
The story – at least according to the press releases – is a familiar one. XTC, as a non-touring band, between the recording/release of The Big Express and Skylarking, adopted the alter egos of The Dukes of Stratosphear and set about writing and recording 25 O'Clock, partying like it was 1967 and stereo phasing had just been popularised. With a clutch of songs as tuneful as Sgt. Pepper's, guitars cranked up like a Kinks Pye b-side, the collective knowledge of a bunch of psych's keenest fanboys and the engineering skills of John Leckie… the resulting album sits somewhere in the pantheon of greatness between Evolution, Their Satanic Majesties Request and S.F.Sorrow…
Or, there's the truth… The Dukes of Stratosphear was England's best kept pop-psych secret band, a group whose only two albums were released to the sound of indifference from media based in London and a lack of play from the most piratical of pirate stations. Convinced by a manager that invisibility would enhance the band's mystique, the band only performed two concerts in Pswindon – a debut gig in early 1967 just after the release of the first LP and, although they didn't know it at the time, a farewell gig to celebrate the impending release of their second LP as the original Summer of Love came to a close in August 1967. Hearing tales of this legendary band, but never having seen them, psych fans Partridge & Gregory from XTC, tracked down Sir John Johns – now mainly a racing pigeon fancier under another name – in a pub and convinced him to let them have access to the master tapes, which had been wrapped in tin foil and buried under a faded merry go round in a playground in a municipal park.
XTC has been passing off this wonderful music as its own ever since that deception, while the real Sir John Johns, still clinging to the mantra that with obscurity comes, eventually, recognition, has long since replaced his garden recording studio with a pigeon loft… thoughts of the front cover of International Times long abandoned in favour of the chance to maybe, someday, grace the cover of British Homing World.
Only the tiny purple fishes can tell… which is real…
Cut at Loud Mastering by Jason Mitchell & pressed on 200gram vinyl this reissue is released on Andy Partridge's APE label and is out on 11 October 2019.
Side One:
25 o'Clock
Bike Ride to the Moon
My Love Explodes
Side Two:
What in the World?

Your Gold Dress

The Mole from the Ministry