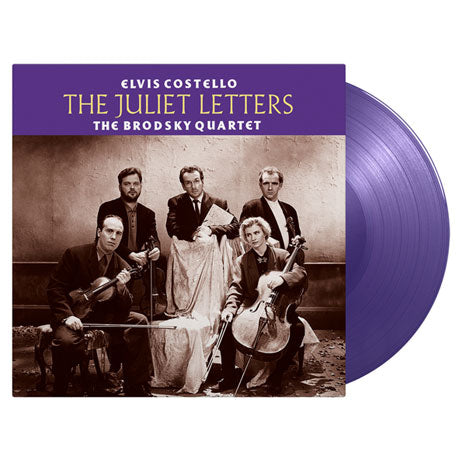 Elvis Costello & The Brodsky Quartet / The Juliet Letters limited edition purple vinyl
£30.00
*If you are ordering from the EU please be aware that that goods may be subject to import VAT when they arrive from the UK*
The Juliet Letters limited edition purple vinyl

Purple vinyl • 2500 numbered copies •  Insert

Music On Vinyl's Elvis Costello reissue campaign continues with a limited edition purple vinyl pressing of The Juliet Letters, his 1993 studio album written and recording in collaboration with The Brodsky Quartet, a British string quartet, from Middlesbrough, North Yorkshire.
The concept was of a series of imaginary letters being sent to an imaginary recipient, Juliet Capulet. The album was recorded live in the studio with no overdubs and did surprisingly well in the UK album charts, peaking at number 18.
This MOV vinyl reissue is the original album only and is pressed on 180g purple coloured vinyl. They are all numbered and limited to 2500 units worldwide.
The Juliet Letters will be released on 5 August 2022, via Music On Vinyl.

Side A
Deliver Us 0:49
For Other Eyes 2:55
Swine 2:09
Expert Rites 2:23
Dead Letter 2:19
I Almost Had A Weakness 3:53
Why? 1:26
Who Do You Think You Are? 3:29
Taking My Life In Your Hands 3:20
This Offer Is Unrepeatable 3:13
Dear Sweet Filthy World 4:18
The Letter Home
Side B


Jacksons, Monk And Rowe 3:44
This Sad Burlesque 2:47
Romeo's Seance 3:33
I Thought I'd Write To Juliet 4:08
Last Post 2:25
The First To Leave 5:00
Damnation's Cellar 3:26
The Birds Will Still Be Singing 4:27