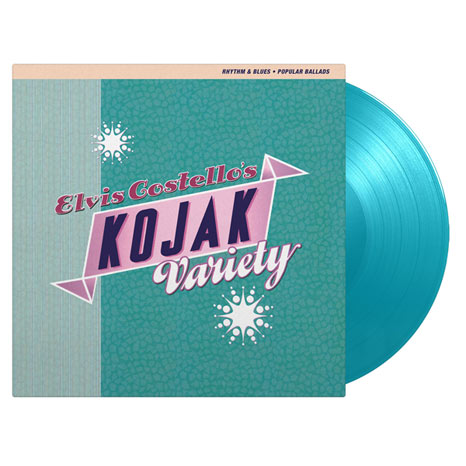 Elvis Costello / Kojak Variety turquoise coloured vinyl LP
£30.00
*If you are ordering from the EU please be aware that that goods may be subject to import VAT when they arrive from the UK*
Kojak Variety limited edition turquoise vinyl

Turquoise vinyl • 2500 numbered copies •  Insert

Music On Vinyl's Elvis Costello reissue campaign continues a coloured vinyl edition of his 1995 album Kojak Variety.
It consists of covers including 'Strange' by Screamin' Jay Hawkins, 'Bama Lama Bama Loo' by Little Richard, 'Running Out Of Fools' by Aretha Franklin and 'Hidden Charms' by Willie Dixon.
The version of The Kinks' 'Days' previously appeared on the soundtrack Until The End Of The World, the 1991 score to Wim Wenders' film.
Players on the album include James Burton, Jim Keltner, Larry Knechtel, Marc Ribot, Jerry Scheff and Pete Thomas.
Kojak Variety will be released on 23 September 2022, via Music On Vinyl.
Side A
1. Strange
2. Hidden Charms
3. Remove This Doubt
4. I Threw It All Away
5. Leave My Kitten Alone
6. Everybody´s Crying Mercy
7. I've Been Wrong Before
8. Bama Lama Bama Loo
Side B


1. Must You Throw Dirt In My Face
2. Pouring Water On A Drowning Man
3. The Very Thought Of You
4. Payday
5. Please Stay
6. Running Out Of Fools
7. Days