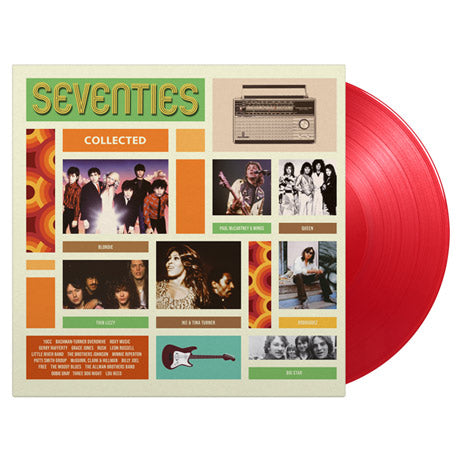 Seventies Collected / Various Artists 2LP limited coloured vinyl
£30.00
Seventies Collected - Limited edition 2LP coloured vinyl
The Decades Collected compilations are part of the new Collected compilation series, which is a collaboration between Universal Music and Music On Vinyl. The compilations bring together the biggest names of each decade, combined with forgotten hits and less discovered gems, giving the listener an experience of listening to their favourite tunes while uncovering new musical grounds at the same time.
Features:
   180 GRAM AUDIOPHILE VINYL
   INCLUDES INSERT WITH CREDITS
   HIGH QUALITY PVC PROTECTIVE SLEEVE
   THE NEW COLLECTED COMPILATION SERIES WITH SONGS AND HITS FROM THE DECADES 60'S TO THE 10'S
   FEATURING CLASSIC TRACKS AND FORGOTTEN GEMS BY QUEEN, BILLIE JOEL, LOU REED, RODRIGUEZ, MINNIE RIPERTON, THE BROTHERS JOHNSON A.O.
LIMITED EDITION OF 2000 INDIVIDUALLY NUMBERED COPIES ON TRANSPARENT RED COLOURED VINYL
VariousArtists - Seventies Collected features classic tracks and forgotten gems: Queen "Somebody To Love", Billie Joel "Movin' Out (Anthony's Song)", Lou Reed "Vicious", Blondie "Atomic", Paul McCartney & Wings "Mrs. Vandebilt", Rodriguez "Sugarman", Patti Smith Group "Dancing Barefoot", Roxy Music "Dance Away", Big Star "Thirteen", Leon Russell "A Song For You", 10CC "Dreadlock Holiday", Grace Jones "La Vie En Rose", Rush "Closer To The Heart", Gerry Rafferty "Right Down The Line", Minnie Riperton "Les Fleurs", The Brothers Johnson "Strawberry Letter 23" a.o.
This compilation is available as a limited edition of 2000 individually numbered copies on transparent red coloured vinyl and contains an insert with credits. 
Also available:

Various Artists - Sixties Collected 
Various Artists - Eighties Collected 
SIDE A
Queen - Somebody To Love

Billy Joel - Movin' Out (Anthony's Song)

Little River Band - Help Is On Its Way

Blondie - Atomic

10CC - Dreadlock Holiday

The Allman Brothers Band - Ramblin' Man
SIDE B
Paul McCartney & Wings - Mrs. Vandebilt

Lou Reed - Vicious

Ike & Tina Turner - Workin' Together

Thin Lizzy - Dancin' In The Moonlight (It's Caught Me In Its Spotlight)

Free - Wishing Well

Grace Jones - La Vie En Rose

Bachman-Turner Overdrive - You Ain't Seen Nothing Yet
SIDE C      

The Moody Blues - Question

Rodriguez - Sugar Man

Patti Smith Group - Dancing Barefoot

Roxy Music - Dance Away

McGuinn, Clark & Hillman - Don't You Write Her Off

Elkie Brooks - Pearl's A Singer

Rush - Closer To The Heart
  SIDE D
Three Dog Night - Mama Told Me (Not To Come)

Gerry Rafferty - Right Down The Line

Dobie Gray - Drift Away

Minnie Riperton - Les Fleurs

The Brothers Johnson - Strawberry Letter 23

Big Star - Thirteen

Leon Russell - A Song For You