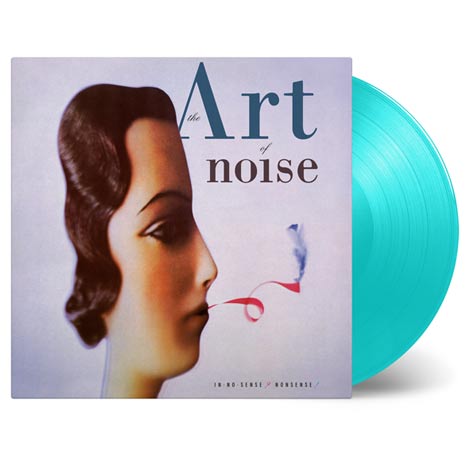 Art Of Noise / In No Sense? Nonsense! / 2LP deluxe turquoise vinyl
£25.00
In No Sense? Nonsense deluxe 2LP coloured vinyl
Limited to 2,000 • Turquoise vinyl • Bonus tracks 
Music On Vinyl will issue a 2LP vinyl coloured vinyl deluxe edition of the Art of Noise's 1987 album In No Sense? Nonsense! This edition features two sides of bonus tracks, in addition to the remastered album.

The audio is pressed on two 180g turquoise vinyl records, which are presented in a gatefold sleeve. This set features printed inner sleeves, a four-page booklet and is a numbered edition limited to 2,000 copies.
As a recap, at this point in the history of the Art of Noise, Gary Langan had left (after In Visible Silence) leaving Anne Dudley and J.J. Jeczalik to continue as a duo. Dudley recalls, "At that time, we were meeting new people, doing adverts and films and things. There was lots of new input. These adverts generated other new tracks. They would evolve and we'd agree they were good ideas. And we'd ask each other what would happen if we did this, this and this? So that kept everything evolving."
This special limited coloured vinyl 2LP edition of In No Sense? Nonsense! is released on 26 April 2019.  
Side A
1. Galleons Of Stone
2. Dragnet
3. Fin Du Temps
4. How Rapid?
5. Opus For Four
6. Debut
7. E.F.L.
Side B
1. Ode To Don Jose
2. A Day At The Races
3. Counterpoint
4. Roundabout 727
5. Ransom On The Sand
6. Roller 1
7. Nothing Was Going To Stop Them Then, Anyway
8. Crusoe
9. One Earth
Side C (The No Nonsense Studio Jams)
1. Theatrical (E.F.L.)
2. Racing
3. Last Chance To Dance (Edit)
4. Faberge 12 (Opus For Four)
5. Exercise And Pool Montage
Side D (The Mixes Stop Here)
1. Legacy (12" Mix)
2. Dragnet '88 (12" Mix)
3. 2 Many Thankyous
4. One Earth (New Mexico Mix)