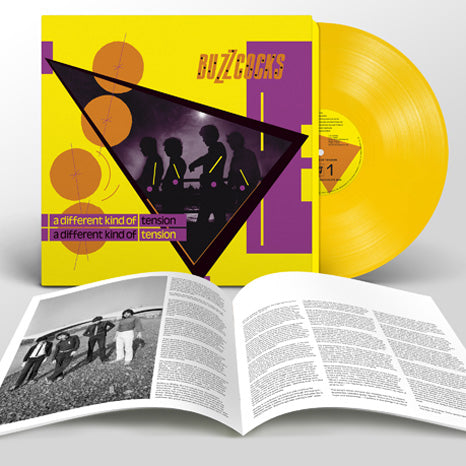 Buzzcocks / A Different Kind of Tension / Limited Deluxe Yellow Vinyl LP
£25.00
'Indies-only' solid YELLOW vinyl • 8-page booklet • Download card

A Different Kind of Tension deluxe yellow vinyl LP
The Buzzcocks' third and final studio album was originally released in September 1979. It features the singles 'You Say You Don't Love Me' and 'Believe'.
The audio has been remastered from the original tapes and the artwork restored under the supervision of Malcolm Garrett (designer of the original sleeves) along with the addition of essays penned by Jon Savage and Clinton Heylin.
Limited edition 'indies-only' violet vinyl
8-page booklet 
Comes with a classic Buzzcocks 'Product' silver biodegradable carrier bag
This comes with a download card and is released by Domino. Update: Domino aren't supplying plastic 'Product' bags ship with these releases, sorry!
Side one
Paradise                               
Sitting 'round At Home                               
You Say You Don't Love Me                     
You Know You Can't Help It                               
Mad, Mad Judy                               
Raison D'Etre
Side two
I Don't Know What To Do With My Life
Money                               
Hollow Inside                               
A Different Kind Of Tension                               
I Believe                               
Radio Nine