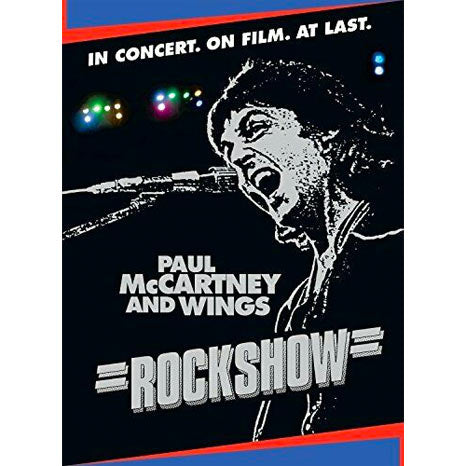 Paul McCartney and Wings / RockShow DVD
£10.00 £25.00
RockShow DVD
This is a 1980 concert film release by Paul McCartney and Wings, filmed during the band's 1976 North American tour. The film features 30 songs from segments of four concerts of the tour: Seattle, Washington, California and Los Angeles.
Includes classic hits 'Live and Let Die','Band On The Run,Let'em In','Listen To What The Man Said', 'Silly Love Song'.
Features .51 Dolby Surround Sound and DTS Digital Surround Sound.
This DVD is region-free and NTSC and comes in gatefold card wallet packaging.
"Venus and Mars" 
"Rock Show" 
"Jet" 
"Let Me Roll It"
"Spirits of Ancient Egypt" (lead vocal Denny Laine)
"Medicine Jar" (lead vocal Jimmy McCulloch)
"Maybe I'm Amazed" 
"Call Me Back Again" 
"Lady Madonna" 
"The Long and Winding Road" 
"Live and Let Die"
"Picasso's Last Words (Drink to Me)" 
"Richard Cory" 
"Bluebird" 
"I've Just Seen a Face"
"Blackbird"
"Yesterday"
"You Gave Me the Answer"
"Magneto and Titanium Man"
"Go Now" (lead vocal Denny Laine)
"My Love" 
"Listen to What the Man Said" 
"Let 'Em In"
"Time to Hide" (lead vocal Denny Laine)
"Silly Love Songs"
"Beware My Love"
"Letting Go"
"Band on the Run"
"Hi, Hi, Hi"
"Soily"
Bonus Feature 
"A Very Lovely Party"