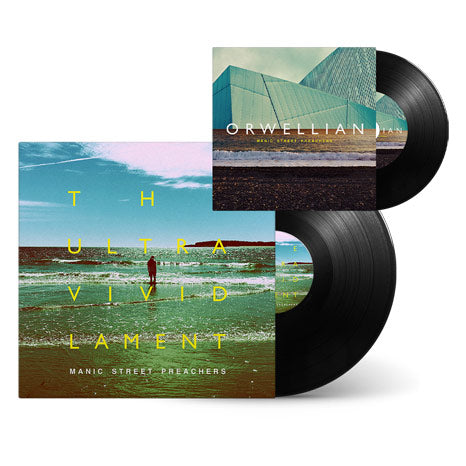 Manic Street Preachers / The Ultra Vivid Lament indies-only vinyl LP + 7" single
£27.99
The Ultra Vivid Lament is the 14th studio album from Manic Street Preachers. It is both reflection and reaction; a record that gazes in isolation across a cluttered room, fogged by often painful memories, to focus on an open window framing a gleaming vista of land melting into sea and endless sky.

Musically, 'The Ultra Vivid Lament' is inspired by a formative years record box (ABBA, post-Eno Roxy, the Bunnymen, Fables-era REM, Lodger) though the end result could only be the unique union of James Dean Bradfield, Nicky Wire and Sean Moore, collectively one of the UK's most consistently brilliant rock'n'roll bands for over three decades.
This special indies-only vinyl includes an exclusive seven-inch single of Orwellian with a remix of the same song on the B-side.
The Ultra Vivid Lament is released on 3 September 2021


Vinyl LP
Still Snowing In Sapporo
Orwellian
The Secret He Had Missed
Quest For Ancient Colour
Don't Let the Night Divide Us
Diapause
Complicated Illusions
Into The Waves of Love
Blank Diary Entry
Happy Bored Alone
Afterending
Seven-inch 
SIDE A: Orwellian
SIDE B: Orwellian (Gwenno Remix)