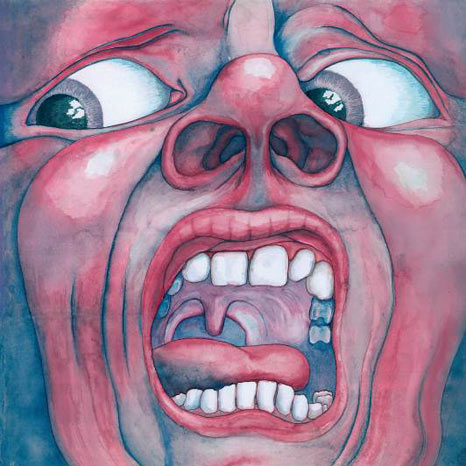 King Crimson / In The Court of the Crimson King 3CD+blu-ray box set
£30.00
In The Court of the Crimson King 50th anniversary 3CD+blu-ray 
50th anniversary reissue • 2019 Steven Wilson mixes in 5.1 and stereo
King Crimson's debut album In The Court of the Crimson King is to be reissued as a Blu-ray+3CD edition for its 50th anniversary.

The blu-ray features an enormous amount of content, including all new 2019 stereo and 5.1 mixes by Steven Wilson (at 24/96 resolution), the original mix (the 'master edition') also at 24/96, a complete alternate version of the album comprising 2019 Steven Wilson mixes, 2019 instrumental mixes and more.
The three CDs in the box set feature the new 2019 Steven Wilson stereo mix, an exapanded edition of the alternate album in the blu-ray and the original master edition of the 1969 mix plus additional tracks. Full track listings and details below.
The four discs are presented into two card gatefold sleeves which sit alongside a booklet within a rigid exterior slipcase. New sleeve-notes by King Crimson biographer Sid Smith feature in the booklet.
This is issued by Panegyric on 25 October 2019.
Blu-Ray (NTSC, Zone ABC, playable on all BD players & drives)
DTS-HD MA 5.1 & LPCM 5.1/DTS-HD MA Stereo & LPCM 24/96
2019 5.1 mixes
1. 21st Century Schizoid Man
2. I Talk to the Wind
3. Epitaph
4. Moonchild
5. The Court of the Crimson King
Additional track
6. I Talk to the Wind (duo version)
Mixed by Steven Wilson
Original Master Edition
1. 21st Century Schizoid Man
2. I Talk to the Wind
3. Epitaph
4. Moonchild
5. The Court of the Crimson King
Produced by King Crimson
Alternate Album
1. 21st Century Schizoid Man
2. I Talk to the Wind
3.  I Talk to the Wind
4. Epitaph
5. Epitaph
6. Moonchild
7. The Court of the Crimson King
Notes re above
1. Morgan studios June 1969 take with Greg Lake vocal overdubs from Wessex August 1969  & Mel Collins & Jakko Jakszyk August 2019 overdubs
2. Alternate 2019 mix
3. Duo version, full length master, 2019 mix
4. Vocals isolated/highlighted, 2019 mix
5. Alt take - 2019 mix
6. Take 1, 2019 mix
7. Morgan studios, June 1969 take, 2019 mix
Mixed by Steven Wilson except 1, 4 mixed by David Singleton
Additional material
1. Wind Session (2019 stereo mix)
2. 21st Century Schizoid Man (Trio version, 2019 mix)
3. I Talk to the Wind (Studio run through, 2019 mix)
4. Epitaph (Backing track, 2019 mix)
5. Moonchild (Album edit, 2009 mix)
6. The Court of the Crimson King (Take 3, 2009 mix)
7. 21st Century Schizoid Man (Morgan studios take, June 1969)
8. The Court of the Crimson King (part 1) (Single a-side, 1969)
9. The Court of the Crimson King (part 2) (Single b-side, 1969)
Mixed by Steven Wilson 1 – 6, Mixed by King Crimson 7 – 9
2019 Instrumental mixes
1. 21st Century Schizoid Man
2. I Talk to the Wind
3. Epitaph
4. Moonchild
5. The Court of the Crimson King
Mixed by Steven Wilson
Video: 21csm extract Hyde Park 1969
CD 1   2019 stereo mixes & instrumental mixes
21st Century Schizoid Man
I Talk to the Wind
Epitaph
Moonchild
The Court of the Crimson King
21st Century Schizoid Man
I Talk to the Wind
Epitaph
Moonchild (edit)
The Court of the Crimson King
1 - 10 mixed by Steven Wilson
CD2 Alternate Album, expanded edition
1. Wind Session (Wind Session, 2019 stereo mix)
2. 21st Century Schizoid Man
3. I Talk to the Wind
4. I Talk to the Wind
5. Epitaph
6. Epitaph
7. Moonchild
8. The Court of the Crimson King
9. 21st Century Schizoid Man
Notes re above
1.  Wind Session, 2019 stereo mix
2. Morgan studios June 1969 take with Greg Lake vox overdubs from Wessex August 1969 & Mel Collins/Jakko Jakszyk August 2019 overdubs
3. Alternate 2019 mix
4. Duo version, full length master, 2019 mix
5. Vocals isolated/highlighted, 2019 mix
6. Alt take - 2019 mix
7. Take 1, 2019 mix
8. Morgan studios, June 1969 take, 2019 mix
9. Trio version, 2019 mix
Mixed by Steven Wilson except 2, 5 mixed by David Singleton
CD3 Original Master Edition, expanded
1 21st Century Schizoid Man
2. I Talk to the Wind
3. Epitaph
4. Moonchild
5. The Court of the Crimson King
6. 21st Century Schizoid Man
7. I Talk to the Wind
8. Epitaph
9. The Court of the Crimson King (single a side)
10. The Court of the Crimson King (single b side)
1 to 5   Original master edition produced by King Crimson
Mastered by Simon Heyworth
6. Morgan studios instrumental take, 1969, produced by King Crimson
7. studio run through, 2019 mix by Steven Wilson
8. Backing track, 2019 mix by Steven Wilson
9/10. Original single master